I suspect New Zealand's first "Hybrid" buses were the 3 Tilling Stevens TS3's ordered in 1914 for Wellington Tramways. Due to the First World War they didn't arrive until 1916. We don't know if they arrived complete or were bodied in New Zealand. Unlike today's Hybrids, the TS3's were not intended to be alternatives to internal combustion powered vehicles, rather as a system developed as a means of avoiding a gearbox and the harsh changes of gear that were otherwise typical of the time. They used a petrol engine to drive a generator, the power from which drove a traction motor - much like a diesel electricblocomotive. The petrol engine was a 4cylinder, 36.15hp unit. The bus speed and torque was controlled electrically. These three units were out of service by 1920 - probably replaced by the Daimler Y type petrol units that arrived about then as War surplus. One or two contemporary TS3's survive in NZ as veteran Fire Appliances. The buses were converted for use as trucks - tower wagons for maintaining the tramway overhead for a period. None are known to survive in NZ although a number still exist in the UK.

Next to appear were what could be termed our first new generation Hybrids. There were the Designline Olymbuses (they first tendered as an environmentally friendly option for the 2000 Sydney Olympics, but were not chosen). Three were used in Christchurch by Red Bus, and three in Auckland by Stagecoach. Designed and built in New Zealand these are now all withdrawn, with one in preservation. A number of these Hybrids were built and exported, to the USA and UK, while some were also built in Designlines North Carolina factory. These were pure Hybrids, designed to run electrically on power stored in batteries. These could be recharged overnight when the buses were out of service. Each bus was fitted with a small jet engine (a Capstone Microturbine - like an aircraft APU) which could charge the battery packs while the vehicle was in use. From memory these buses had two battery packs, so while one was driving the bus the other was being charged. While technically advanced these vehicles had very short operational lives, mainly due to problems with the batteries.

Two hybrid buses ex Transport for London have arrived in New Zealand for Tauranga based Bethlehem Coachlines. The two hybrids are Optare Tempo, a relatively lightweight full-size bus. A small batch of the hybrid version was ordered by Transport for London as part of their hybrid trials, but as the trials are finished, the vehicles have been sold. They are unusual in having a 'parallel' hybrid drive, where the diesel engine not only recharges the batteries but is also capable of driving the axle directly, to boost power when pulling away, etc. Most hybrids are 'series' hybrids, where the engine only recharges the batteries, which then drive the motors. The attraction of these Tempos is that unlike nearly all hybrids, they are fitted with 'proper' diesel engines (in this case Cummins 240hp ), meaning that if the hybrid drive is too complex or expensive to fix, a conventional Allison box can be substituted with little trouble. Although there are hundreds of hybrids in the UK, all bar a very few have been bought with government subsidies; they are still not seen as good value by operators, especially on the flaky Tempo, and a one-off batch to boot.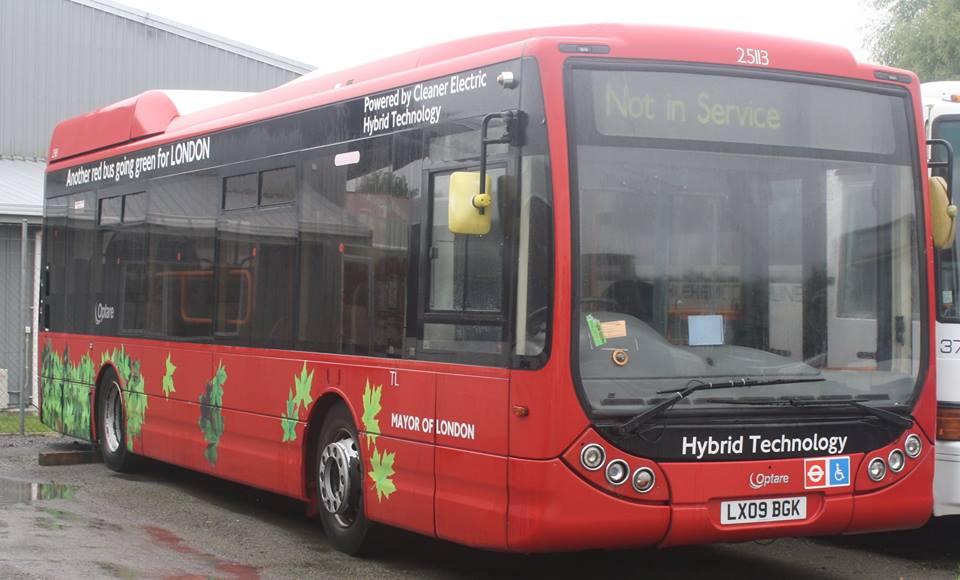 Currently in operation on Newlands services is a Volvo B5RLE (photos above) with an Australian Bustech body. After a period on demonstration in New Zealand it will return to Sydney to go on trial there. This is also a parallel hybrid system vehicle. The electric drive is used to accelerate the bus away from stops, when the 4 cylinder diesel engine takes over and propels the bus. Interestingly the bus power system runs at 600 volts, so if you wanted you could replace the diesel engine with trolley pole. Both the electric motor and the diesel engine drive a 12 forward and 4 reverse speed automatic gearbox. The bus is rated to carry 41 seated and 30 standee passengers.
I guess its watch this space to see how it performs and what comes next. If anyone can add any further infomration, please get in touch.