Hodsons of Wanganui
The road passenger transport industry was very different 90 years ago. The main trunk railway between Wellington and Auckland was a relatively new link, and passenger trains were the means of transport about New Zealand. Horse drawn coaches were still in use in some areas, and the roads were, to be blunt, little more than muddy tracks. With manpower shortages and a lack of shipping due to wartime requirements, coal was not as readily available as it was in earlier years, and cuts were made to rail services in 1917. Into this gap stepped James Hodson, son of a pioneering Taranaki farmer, and the proprietor of Wanganui's then "Parkville Private Hotel", commenced a service car run between Wanganui and Marton Junction in May 1917.
Prior to James' new service passengers for Wanganui from the Auckland to Wellington Express caught the 10.00 a.m. slow train from Marton Junction eventually reaching Wanganui around 1.15 p.m. This was deleted from the timetable which meant that passengers had to "cool their heels" at Marton Junction until the Wellington to New Plymouth Express came along at 1.30 p.m.
The Hodson car left the "Wanganui Chronicle" office at 5.15 a.m. carrying the newspaper to Marton for points further afield. His return service left Marton at mid-day. The fare for the single journey was $1.25, later reduced to $1. It was confidently expected that this welcome service would soon need to be expanded and this certainly proved to be the case. Gradually additional services were introduced so that by July 1925, there were 4 return services a day which connected with all north and southbound main trunk services. In addition a service left Wanganui for Palmerston North at 9 am, and connected with the trains to Hawkes Bay and the Wairarapa. The return service from Palmerston North also connected with an afternoon departure northwards to Taranaki.
By the late 1920s, this "AARD" operator was also running services between Wanganui, Hawera and New Plymouth in addition to its other services. There was also a once a day "mail and passenger" services from Wanganui to Mangamahu via Fordell and to Kakatahi and Glenns Junction up the Parapara (SH4).
The firm also operated Special Weekend trips from Wanganui to the Chateau and also to Mount Egmont's Dawsons Falls. When the 1931 Transport Act came into force, it would appear that the Wanganui to Marton and Palmerston North section was deleted (White Star operator Martin & Vernon also serviced this route) thus leaving the Wanganui-Hawera-New Plymouth route as the main service.
However there were some restrictions between New Plymouth and Inglewood due to a "local" service. In 1940, the New Zealand Railways Department purchased the service taking over 5 vehicles, 4 of which very quickly were transferred into the control of the Army. The largest vehicle, a 17 seater Leyland Cub (F/N 872) remained in the NZRRS fleet until February 1952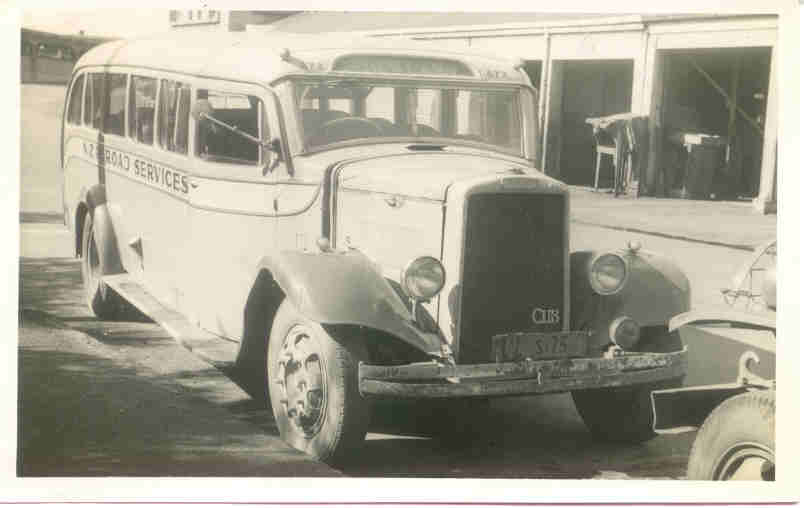 My thanks to the Wanganui City Library Staff and the later John Herbert. Acknowledgement to "Wanganui Chronicle", the "Hawera Star", "Transport News of New Zealand "and "N.Z.Free Lance."
Clive Otway
History Index | Home | About The Society | The Society Fleet | Library | Publications | Bus Location | Badges, Books & Posters | Links