RUNNING SHEET
NOVEMBER/DECEMBER, 2005
The Newsletter of the Omnibus Society Inc., PO Box 9801,  Wellington, NZ
Warm good wishes for Christmas and the New Year from your Editor and the Committee of the Omnibus Society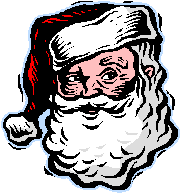 OUR FLEET…Thanks to Peter Rendall, Henry Brittain
BUS STORAGE CRISIS! Very important at present is the pressing need to find storage for our vehicles stored at Upper Hutt. They cannot continue in storage there beyond Christmas. Any help from members would be very welcome. Much effort is being expended to find "breathing space" with a view to an eventual safeguarding of the vehicles' existence. If anyone knows of possible storage space please contact Henry Brittain [Ph. (04) 476 7278] - Email henry.brittain@xtra.co.nz  or contact Peter Rendall [Ph. (04) 970 1405] - Email obnz@paradise.net.nz
            322 – the Mk I Reliance is back in service. My grandson, Thomas, noted its appearance in the Wellington Christmas Parade – only five and reporting fleet numbers already! Good lad!
NB Our fleet needs constant care. Tuesday work nights at Karori Depot could use more people. If you don't mind getting your hands a bit dirty, and, irrespective of whether or not you have any particular expertise, the small dedicated team of regulars would welcome your presence and support.
WEBSITE…
A FURTHER REMINDER that the Society's website, masterminded by Mike Butler, is now incorporated in RUNNING SHEET's title heading. Pay it a visit – it's well worth it! Also, if you've missed or lost issues of this newsletter, back numbers are available on the website.
SUBSCRIPTIONS…
Subscription unpaid?  Some subs are still unpaid. Treasurer, Morris Moller, would appreciate hearing from you. Sub forms were sent out earlier but, if you need one, ask either Morris (475 9467) or Henry (476 7278) to send you one. Subs are $25.00 per year or $12.50 for non-earners.
BOOK & CALENDARS… First come, first served! ONE COPY ONLY of Graham Stewart's new book "Wellington – Portrait of the Region" is still available. It is packed with past and present photos, very many of which feature trams, buses, trolleybuses and other transport. Its shop price is $44.99 but it is available through Henry Brittain for only $35.00. Please contact Henry if you are interested – Ph. (04) 476 7278 or email him on henry.brittain@xtra.co.nz  The Australian calendars, Buses 2006 and Trams 2006, have sold out.
OBSERVATIONS..Thanks to Mike Boyton, Henry Brittain, Neil Brown, Bryce Pender, Ian Robertson, Nick Stoneman
INFRATIL BUYS STAGECOACH – After a period of wonderings and rumours, it became known in the third week of November, that Lloyd Morrison's investment company, Infratil,  had bought Stagecoach NZ for $250.5 million. At one stage, the favoured rumoured buyer was Singapore-based group, Comfort-Delgro, who, I noticed recently, had bought western Sydney bus group, Westbus, in partnership with Cabcharge Australia Ltd.
Lloyd Morrison has a reputation as an astute investment banker and is a patron of arts and music. As Marta Steeman pointed out in The Dominion Post, he has a strong streak of national interest and pride in him, too. He started a debate on NZ's national flag last year and has spoken of "buying back the family silver" as a metaphor for buying Stagecoach. As Infratil have five years' use of the Stagecoach name and striped livery in NZ, could we perhaps have local area liveries again? (How about yellow buses in Auckland and red ones in Wellington? Also, had certain ideas begun to form in Perth, Scotland, when Stagecoach NZ retained the stripes? – Ed.)
Among Infratil's holdings are power company Trustpower,  two thirds of Wellington Airport, and a shareholding in Port of Tauranga. More recent investments have included Glasgow Prestwick Airport in Scotland and two other "emerging" airports. Infratil also has an interest in Gobus in Hamilton (ie in NZ).
AUCKLAND –  Ian offers this interesting report which I print largely verbatim. Ian has photos, too, which are mentioned in the article but are not yet available to publish: AUCKLAND'S NORTHERN EXPRESS AND BUSWAY INTERCHANGES. The Northern Express bus service on Auckland's Harbour Bridge and Northern Motorway opened on 6 November, providing a 15-minute headway in each direction between Britomart Bus Station in Downtown Auckland and Albany on the North Shore. New bus interchanges have been built at Albany (Oteha Road Motorway Interchange) and Constellation Drive Interchange on the northern end of North Shore. Another bus interchange is being built at the Esmonde Road/Akoranga Drive Interchange to serve the southern end of North Shore, including Takapuna.
           The service is provided by Ritchies, using new Scania buses with Designline bodies. Every second Express continues to the Albany campus of Massey University. Other North Shore services connect with the Express at the two interchanges already in operation. There are park-and -ride facilities at both interchanges. To indicate the rapid acceptance of the new service, the carpark at Constellation, with capacity for 150 cars, had 95 occupied by on a day within two weeks of opening. As one of the photos shows, the Albany interchange is quite close to North Harbour Stadium, offering the potential for developing bus transport to major events there.
           My impression is that no effort has been spared to provide the best facilities for passengers at both interchanges. There are glass-enclosed waiting areas to enable passengers to wait in comfort while still being able to see bus movements. There are toilet facilities and good timetable information. While I have no first-hand information from drivers, it appears as though the approach roading provides easy access for buses, especially with dedicated on and off ramps to the Motorway, without conflicting with car traffic.
(Relevant to the above, is an article in the BCA circular for Nov.2005 with the title "Scania's Urban Expansion", reporting that Ritchies have received all 17 of their order for Scania L94UB SLF buses for Auckland. The first three are 3-axle buses bodied by Kiwi, but the rest – seven 2-axle and seven 3-axle – are by Designline. Both fleet livery and MAXX Northern Express livery are carried – I do not know how many of each, but the latter colours look very handsome. – Ed.)
CHRISTCHURCH – Nick notes that Redbus recently sold their Mercedes 0305 (209 Redbus, 399 Astro, 418 Ritchies, 1378 Auckland) which is apparently going to Foxton. It was refurbished by Designline when owned by Ritchies.
DUNEDIN – has, Nick reports, finally lost Southeastern Buses, formerly trading variously as Cesta, Eastbus, and Southbus. They gave up the contract for the Waverley/Peninsula services a while back. The successful new tenderer is Citibus, the DCC-owned company. Southeastern also ran, commercially, the Port Chalmers and Balaclava services and have given these up too. During your Editor's November visit to Dunedin, the former was being operated by Citibus (the "Newton" seems to have been dropped) and the latter by Dunedin Passenger Transport. Nick also adds that the Volvo SLF ex-Ritchies 487 and the Mercedes SLF ex-Ritchies 400 have both been sold to Dunedin Passenger Transport from Southeastern. The MAN 12.223 owned by Otago Explorers has also been sold to Redbus.
(On my visit to Dunedin, buses were noted in three main liveries: Otago Road Services in green; Citibus in blue and gold (with one or two buses still in the older white-based uniform); and Passenger Transport in a predominantly white livery. Citibus were still running Leyland Leopards 190, 194, and 203, and further pleasant Leyland rumbles were contributed by ORS with green Leopards (ex-Citibus) with ORS F/Ns 33/34/35 being noted – regos were not original. ORS was also operating a S/C 1300-style SLF numbered 50 with the rego SUPALO. In addition, Citibus had a number of similar vehicles, F/Ns 313 – 316 being noted. In addition, Citibus were operating a number of what appeared to be ex-Auckland MAN SL200s, F/Ns 318-320 being noted. Any comments or corrections to my  observations would be welcome. Incidentally, are route numbers used now? The SL200s were showing Citibus F/Ns on their 3-track blinds – Ed.)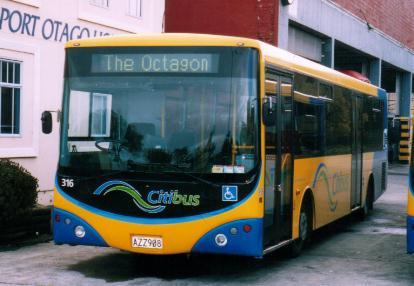 Citibus 316/AZZ908 MAN/Designline SLF.                        Photo: Stan White
OTAKI – Neil notes that October was a time of change here. I'll leave him to tell it in his own words: "As you may have noticed, from 31-10-05, the tendered revamped bus service, Otaki to Paraparaumu, commenced. The cheapest tenderer (which must have stunned Tranzit) was Madge Coachlines now more well-known as Uzabus. Uzabus bought a MAN SLF from Leopard Coachlines for the contract. It is now 550/ZR8224  and was Leopard's 71. The new route 70 has six Monday-Friday services  Otaki - Paraparaumu with two Otaki-only legs, and on Saturdays a four trip service and two Otaki-only legs.
"It still rankles a bit in that, earlier this year, the existing local operator, Thompson's Passenger Service (TPS), a commercial operation, was pressured off the route by the Wellington Regional Council and our taxpayers' money frivolously wasted to subsidise another operator (Tranzit) to operate the same service when a better approach could have been an approach to TPS asking would they run on the other days they were not operating for a running subsidy until future tenders were finalised. From this route 70 affair and the new 'Metlink' branding effort, I get the impression that the WRC public transport department officers are more interested in justifying their existence than having a realistic attitude to expanding our transport network.
"October saw the restructuring of the Geoff Willmott businesses; Silver 'n' Gold Shuttles and  Xtreme Buses to becoming a Co-Op Shuttle operator as Silver 'n' Gold Shuttles Ltd, the same name as used for their Otaki Taxis. I assume the Nissan Civilian was traded for the Ford Transit minibus now used. His Otaki house is for sale.
"The other Otaki Co-Op Shuttle operator Dave Glover had his failed Wellington commuter service bus attacked by arson on the 25th of October. It had been parked for sale beside SH1 at Otaki Railway for an unrealistic price.
"And finally the last all Bedford fleet in NZ (bar the Trevor Jones fleet), TPS, has succumbed to an import. It is an Isuzu LR 312 previously with South Island operator Atomic shuttles. Rego is UQ 3311. Bedford SB3 HQ 3922 has been sold for a motor caravan conversion."
            RAETIHI – this rural town, 11km from Ohakune, is home to Dempsey Buses Ltd. who supply school services, charters, Mt Ruapehu trips and some mill workers'commuter services. They have recently taken delivery of a new vehicle that is very much in the tradition of the NZ rural operator (or, for that matter, of many other areas of the world where low purchase price, simplicity and ruggedness are qualities needed for continued operation). The vehicle is featured in the BCA circular for November and is a very attractive multi-purpose school/charter bus built by Kiwi Bus Builders, Tauranga, on a Hino FG truck chassis. It is tested and commented upon by John A. Murphy who finds it compares exceedingly well with purpose-built bus/coach chassis. Dempsey Buses already run an earlier Hino and an Isuzu, both bodied by Kiwi. (Having a holiday house in the area, I've seen this new Hino myself – it looks even better than in photos. – Ed.)
WELLINGTON – Metlink has, since early October, replaced the former label Ridewell as the name for Greater Wellington (theRegional Council's) transport network, covering all bus, train and harbour ferry services. The identities of the individual companies providing transport in the region will remain distinct but all vehicles, timetables, bus stops and relevant advertising and literature will carry the Metlink logo and colours, with vehicles having it applied discreetly on the liveries as they exist now. There is a website for public transport information www.metlink.org.nz  Also there are pocket timetables and network maps, txtBUS for timetable info via mobiles, 21 bus stop info displays in Central Wellington, Explorer bus/train tickets that allow a child to go free, bus stop numbers for txtBUS users, Metlink station carpark signs and some additional services on selected routes.  
Stagecoach – All 2400s have been delivered – 2489 to 2496 are all with Cityline Hutt Valley. 2489 – 2491 are all B53F for the Eastbourne Connector while 2492 – 2496 are B43D and are new Airport Flyers replacing the aging ex-Hong Kong Volvos.
A number of Hutt Valley routes have shown considerable growth recently, Wainuiomata Commuter Route 80 by 48%, Route 115 Pinehaven by 45% and Route 121 Valley Heights by 39%. Also the improved 80-group routes to Eastbourne grew by 29%.   
Mana Coach Services –
Porirua Depot – Michael reports two new Volvo B7RLE buses arriving in the first half of November from Kiwi, Tauranga. They will run from Newlands Depot and are 146/DAG246 and 147/CZW692. He also notes that the MCS (ex-Newlands) Leyland fleet further declines, with ex-Invercargill 1982 Leopard 145/NCS45 and 1985 Tiger 138/NCS38 being sold "up north" around the beginning of November. 138 was to be replaced by a Dennis Javelin (not new) to be based at Newlands. (See also under Kapiti.)
Newlands Depot – see note under Porirua. New here is 37-seat Volvo B7M coach, 137.  
Kapiti Depot – Ex-Invercargill 1982 Leyland Leopard/Hawke 144/NCS44 departed sold from here in early December – I do not know whether or not it has gone where 145 and 138 have. It has been replaced by Hess-bodied ex-DCT Leopard 166/NCS66 on school services. The Leyland count on the Coast is therefore still three, the other two being 3-axle 1985 Tiger/Designline coach  135/NCS35 and Leopard/CWI Ranger coach 136/NCS36. Returned to the fleet here is bodily refurbished Hino RK 30/NA7377, looking good in Jamaican lime as does similar bus 42/NA7360, refurbished some time ago. No. 42 retains its side destination box, though, whereas 30 has had this feature panelled over. Also returned, after bodily refurbishment, is 143/NCS43, 1989 Hino RG197, 33-seat coach with Designline body.
Harbour City Limousines  (trading as Kapiti Coach Charters?) – has Volvo B10M rego CPT173 (old rego KU1950) in white with red/blue yellow stripe notes Bryce, who has also seen ex-IPT  32/HW3164 in Porirua.
Editor's Self-indulgence Spot….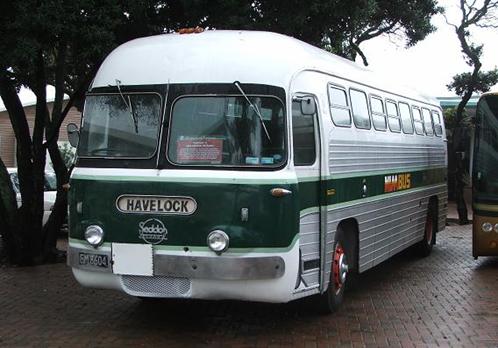 I can't resist Nimon's No. 4,  a Nuttall-bodied Seddon, so here it is.        Photo: Stan White, July, BCA Conference
OBITUARIES…of Graeme Butler who sadly died on the 1 December, 2005   
Thanks to Peter Rendall and Graeme Inwood for these.
It is with sadness that we report the death of Graeme Butler, Stagecoach Wellington's trolleybus                    project engineer. While his death is not unexpected, as he has been suffering from a nasty form of cancer for some time, it was sooner than we had foreseen. Graeme will be remembered as the person who did the technical work to ensure that Wellington's next generation of trolleybuses will work and be a credit to the type. Graeme also had the dream of making a replica of the trackless tram, while ensuring that the physical remains of the body were stabilised and preserved. In the time before his death, Graeme had been travelling in Europe looking at modern trolleybus systems - I think his wife got to see some of the scenery between bus routes....
Peter Rendall
Yesterday Graeme Butler, Stagecoach's Number 1 trolley bus engineer died. Graeme rebuilt 264 to test out new equipment for the next generation of trolley bus.
Graeme was told last Christmas that he had terminal cancer. He did expect to last another year at least. On the 20th of August this year Graeme and his wife left on a trip to the UK. He had been sending back a diary of his travels to the staff at Kilbirne. I can only guess that his fragile health took a turn for the worst and he returned home early. He died in Mary Potter Hospice. Graeme did work as a shiftman at Kilbirne many years ago. He then studied as an adult student and worked for the Railways for many years until the NZR was cut back to nothing. Graeme drove for Newlands before coming to Stagecoach to be the trolley engineer and part time bus driver. I know I enjoyed talking to him about trolleys and Graeme did try his hardest to explain the workings of a trolley to a driver.
Graeme Inwood.

Left: Trolley 301 outside St.Paul's Cathedral during Graeme's funeral and Right: Graeme behind the wheel of a Volvo. ( Note 301's  destination programmed to show "Farewell Graeme".)                         Photos: Graeme Inwood                                                                                            
OBITUARY…Ruth Moller(14 April,1916 – 10 Sept., 2005) Sadly, our Treasurer, Morris Moller, lost his mother this year. The Society was well-represented at her funeral, held in Johnsonville on 13 September, 2005, and followed by a private cremation. The Society also lost a good friend in her passing, in that she was the staunch and very accurate Auditor of our accounts.
The thoughts of the Committee and members of the Society are with Morris and his family in their loss.
                                                                                                                        Mike Secker
INTERNATIONAL…
SHEEP PEE AS FUEL? Kindly sent to me earlier in the year by Graeme Inwood is this interesting and amusing article by David Adam, science correspondent of The Guardian of Friday, June 10, 2005. It's clearly serious, though, with Stagecoach and Cummins involved.
A British bus company is testing a new secret weapon that it hopes will help forward its push to cut its polluting emissions - sheep urine. Stagecoach has fitted a bus in Winchester with a tank containing the animal waste, which is sprayed into exhaust fumes to reduce emissions of harmful nitrous oxides. Andrew Dyer, managing director of Stagecoach South, said: "It is a novel way of reducing pollution but we believe it will work. There is nothing to worry about - we won't be asking passengers to leave a sample and we won't be carrying a resident sheep at the back of the bus." The scheme is backed by Hampshire county council as part of an effort to reduce pollution. The bus carried its first passengers last month.
The urine is collected by the fertiliser industry from farmyard waste and refined into pure urea, which is then sold on to be used in the green engine technology. Ammonia from the urea reacts with nitrous oxides in the exhaust fumes and converts them to nitrogen gas and water, which is released as steam.
Mr Dyer said the idea was no laughing matter. "I got some laughs when I told a transport conference in Birmingham that sheep urine could be the key to cleaner vehicles but it is becoming a reality. This is the latest in green technology and we believe it will help make our cities better places to be for the public."
New EU regulations to be introduced in October next year will bring tighter restrictions on emissions, he said. The urea-injection system was developed by Darlington-based engine
manufacturer Cummins. Andy Wren of Hampshire county council said: "We are running many anti-pollution initiatives, but the sheep urine idea gets the attention."
BUSES IN BRITAIN … Some personal observations, 2005, by Society member, David Donald. Many thanks for these interesting impressions, David. I'm happy to publish anyone's  "Buses Elsewhere or Offshore" experiences. It's what we often chat about, after all. 
In the middle of this year I was lucky enough to spend five weeks in England and Scotland.
What a wonderful time to put 'faces' to buses and coaches that I had read about for years in Ian Allan's 'Buses', 'Buses Focus' and many other British bus publications! Firstly, I had to put into perspective, when doing comparisons between New Zealand and the United Kingdom, the huge contrasts in population with 4 million versus 60 million.
The number of companies supplying bus and coaching services is endless and since deregulation and the virtual demise of the NBC the race has been on, to take over, amalgamate and rationalise .The ever-present monopolies people ensure that no company gets too dominant and that in itself can be a problem. The tendering process is complicated and ruthless, particularly in London where the criteria are very strict and the casualties of lost tenders sometimes simply disappear from the market place.
The major companies are, of course, Stagecoach, Arriva and First, but becoming increasingly dominant is Go Ahead which is the only major operator to retain individual fleet branding and local control. Fleets vary dramatically in condition. Of the big three, First is 'worst', Stagecoach sits in the 'middle' and Arriva is 'tops'. In London, strict criteria ensure that vehicles look great (at most times), fleet replacement is regular, and the type of vehicles required is dictated by Transport for London (TfL). The regular replacement of vehicles in London means that the vehicles that they replace are cascaded at quite a young age into country fleets.
The choice of chassis brand and body builders is almost endless which makes the fleets a bus nutter's paradise and all companies have their likes and dislikes as to bus type selected. If a particular vehicle just does not measure up to expectations it is cascaded, or sold off as there would appear to be little room for compromise.
My favourite bus company would have to be Lothian Buses of Edinburgh in Scotland. The pride in the fleet has to be seen to be believed. Before the introduction of the new trendy but complicated 'harlequin' livery the buses were painted by hand with roller or brush and looked superb. You would be hard pressed to find a vehicle in service with even a scratch. Buses would not appear to be allowed on the road with accident damage. Lothian, apart from commuter services, also run the sightseeing buses around Edinburgh under a variety of banners including Mac Tours, with vehicles ranging from open top Routemasters to the usual. I was told about a Mac Routemaster that was rear-ended one day and back in service the next morning after it had been worked on all night, including re-painting and signage. Could you in your wildest dreams imagine that happening in little old New Zealand? The Lothian garages (probably tram barns once) were clean and bright and tidy enough to eat your dinner off the floor.
I was also lucky enough to be introduced to the Megabus.Com operation of Stagecoach in Perth. After an intensive marketing programme to 'hit' the target markets, Megabus, with fares starting at 1 pound plus 50p booking fee, has really taken off. After starting with an assortment of double deckers including some returned from Hong Kong, the latest additions to the fleet have been Neoplans similar to those on the Oxford Tube. I had the chance to see one at first hand and sit both up and downstairs. They are very impressive vehicles but they struggle with the accommodation of luggage. They now run in association with Motorvator and Citylink in Scotland.
Advertising on buses is minimal in the UK compared to New Zealand. Most majors, if they do choose to advertise on vehicles, prefer to advertise their own services. Coupled with this, a lot of vehicles are 'route branded' so extraneous advertising is not appropriate. Tenders often have a requirement to provide an extra vehicle as a spare so if the route requires 5 buses then 6 have to be provided. Because of the importance of route branding in the big cities, it would be chaos to put a 'strange' vehicle on a branded route.
Another big and ever-growing phenomenon is "park and ride" which has become essential in some areas where there is such congestion in towns and cities. It is a great system and works well.
For one of our weeks in England, we went on a "Globus" coach tour to South Western England and stopped at places of significant bus interest…Bristol, Brighton, Plymouth, Canterbury to name but a few. Our coach was a (K) Setra, a year old and M/B powered. It was supplied by Redwing and painted in Globus colours. Superbly comfortable, great driver and equally great courier/guide. Highly recommended.
In spite of the 'majors' The U.K. is well served by independents and some may be 'one bus' companies running a 709D in and around a small village, but providing a great service and too small to be generally 'gobbled up'.
Another feature of UK buses is the provision of Rail Replacement where in some places there are companies that specialise in this activity. If you need buses to replace trains in God's Own, forget it. The latest Paekakariki  fiasco bore evidence of this when anything left over from normal service was whipped into action. Again it is the population thing that I alluded to in my opening comments. The population of New Zealand is just so small.
On the question of liveries the British bus livery for Stagecoach is great on double deckers and new buses but is not so hot on older buses and repaints. It is complicated and must be a nightmare to apply. I was interested to see it on a range of vehicles and came to the conclusion that NZ was wise to stay with the 'armchair' livery although it is probably due for an upgrade and simplification. Arriva  has a clean and fresh and simple livery whilst First can't seem to make up their mind as to what they want.
My favourite vehicles would have been the Wright Gemini double decker and the Wright Volvo single decker of Lothian. Lothian is also currently trialling bendy buses and even put their own decals and signage on the demonstrators which stay for some months on loan.
PLAXTON/DESIGNLINE?... The November BCA circular mentions that Designline is to market the attractive Plaxton (UK) Primo SLF 28 seat midibus in NZ. The Primo is 7.9m long and is powered by a 135hp Euro III Cummins ISBe 4-cylinder engine with an Allison automatic gearbox. A demonstrator will be in NZ from late December.
VDL?...What do these letters mean? Well, for those who don't already know, the bus brand they are was better known as DAF. As the BCA circular makes clear the old Dutch brand is now part of Volvo and apparently the initials stand for Volvo, DAF and Leyland. Titan Plant Services market VDL in NZ. The VDL vehicle currently in NZ is for the Turley-Murphy joint venture between Hamilton and Te Aroha. The VDL is below Volvo's B7 in the model line-up and intended as a lightweight 2-axle bus. This means it is aimed at the MAN 12.223.
ROUTEMASTERS….Many media sources have mourned the passing from everyday regular service with TfL (Transport for London, as the modern incarnation of the old LT is called) of these deservedly-labelled "iconic" AEC double deckers. Their retirement occurred in the early evening of Friday, 9 October, on Route 159. However, both in preservation and in private charter and other specialised services, including planned London Heritage Routes 9 and 15, expect the Routemaster to be a very visible presence for a long time yet.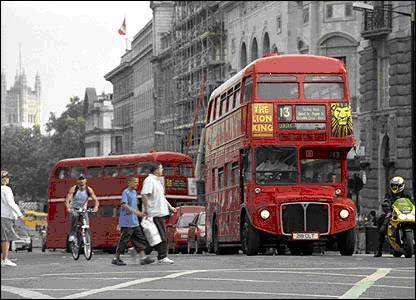 Routemasters in their native habitat.                                                     Photo: BBC
ENQUIRIES… Does anyone know the whereabouts of the three ex-Newlands Leylands, 138, 144 and 145, sold recently by MCS, and mentioned  in OBSERVATIONS in this issue?
______________________________________________________________________________
            Mike Secker, 63 Glen Road, Raumati South, Kapiti  6010.  Ph: (04) 902 1173  Fax: (04) 902 1174  Mob: 027 426 7901
Email:  mikjan@clear.net.nz
Home | About the Society | Fleet | Publications | Library | Bus History | Badges, Books & Posters | Links | Bus Location