RUNNING SHEET
MAY/JUNE, 2006
The Newsletter of the Omnibus Society Inc., PO Box 9801, Wellington, NZ
          SUBSCRIPTIONS…
Subscription unpaid?  Subs for 2006 are due. Treasurer, Morris Moller, would appreciate hearing from you. Sub forms were sent out earlier but, if you need one, ask either Morris (477 9467) or Henry (476 7278) to send you one. Subs are $25.00 per year or $12.50 for non-earners.
          NEXT EVENT… Midwinter Dinner, Saturday 24 June – separate Running Sheet Extra sent out re this.
          COMING EVENTS FOR 2006…
15/16 July – Bus & Coach Assoc. Conference, Wellington. (119 may do city trips during this.)
August – Evening meeting.
September – Garage visit.
October – AGM.
November – Trip to Melbourne's tram centenary.
December – Evening trip.
          PAST EVENTS…Mana Coach Services Waitangirua (Porirua) Depot Visit, 9 April                                  
(Many thanks to Michael Berry for these two reports – Ed.)
     The weather forecast said it was going to clear up so I ventured out into the rain to join six other bold members who were also keen to see developments at Waitangirua.  We were warmly greeted by our host and fellow member, Mike Boyton, and we retreated into the new administration block while the thunder roared and rain teemed down. Mike is the Driver Supervisor and he gave the group an informative insight into the running of a bus depot.  Juggling staff and vehicles is his daily challenge to ensure that the best service is delivered.  The Mana staff is experienced and reliable but the vehicles can be a source of headaches.  The sun soon started to break through so we went out to study the fleet.  It had changed considerably since our first visit in 1987 and only a few Hino survivors remained from that time.  The buses are now parked in dedicated spots grouped by type rather than fleet number sequence.  This enables Mike to look out and see what types are available for a particular duty.  It also enabled us to photograph like types together.
We were treated to a ride on 31/MG6548, Hino BX341, Coachwork Ranger body, to the new Aotea subdivision and could see that this older vehicle was performing well.  Back at the depot, coaches 26 and 162, and bus 60,  were moved around to form interesting groupings.  Such opportunities are possible when the Society visits a depot as a group.  It was a most interesting and busy visit getting round the extensive fleet and all the group felt that it was a morning well spent. Our grateful thanks are due to Mike Boyton and the Management of Mana Coach Services for facilitating our visit.  
                                                …Karori Depot Open Day, 21 May
So that members could see the extent of the Omnibus Society's fleet and workshop facility, an open day was held on Sunday, 21 May.  Although details of the event were given at short notice, the day had been notified in earlier editions of Running Sheet.  So it was pleasing to see seven members attend and four potential members come along of which at least one has signed up.  It was an eye-opener in all respects to what the Society has.  The depot features undercover storage for buses that are being worked on or are in an unfit state to be outside.  A significant number of spare parts are neatly stored as well as the items in the Society's library.  Ex Eastbourne No. 20 and Nimon's No. 6 were in the main workshop area with work in progress whilst ex WCT 249 awaits restoration to its timber framework.  Outside were parked the Omnibus Society's work horses including 3583, 322 and 462 awaiting their next income-earning duty.  As well as current Stagecoach Volvo/BBC trolleybuses, also in the vicinity were trolleybuses that used to run for WCT, ARA and Farmers.  The star attraction was our latest vehicle – New Zealand's first MAN delivered to Gisborne City Council as their No.4/ IE6216 in 1976.  Although the weather was cool and cloudy, the people that visited the depot were pleased by the experience.  My thanks to Morris Moller for his extended stay of duty and for his invaluable knowledge about the fleet and site.                                                                                                                 
          OUR FLEET… thanks to Henry Brittain, Peter Rendall, Morris Moller
            4 - MAN ….
HERE IT IS….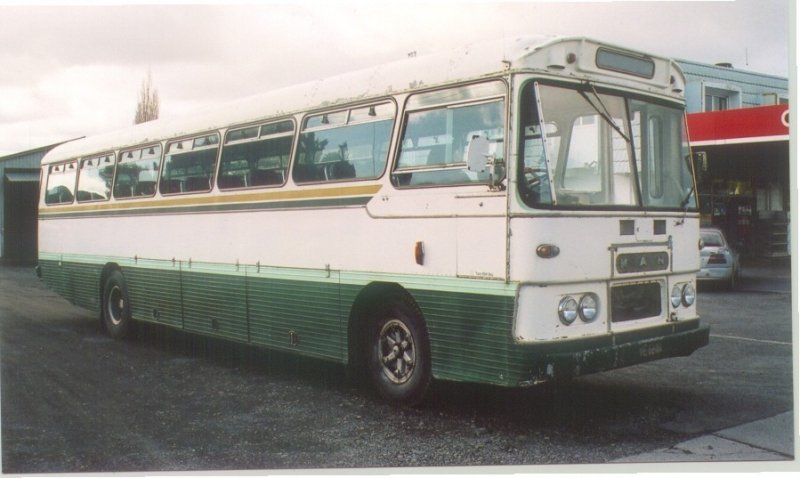 Ex-Gisborne City Council No. 4, 1976 MAN 15.192R FOC-R, the first MAN PSV sold in NZ. Details are in the last Running Sheet.
It is pictured here, early on its delivery trip to Wellington from Mcgraths Buses, Taumarunui. (Photo: Morris Moller)
            20 –                                         …AND ONE DAY……!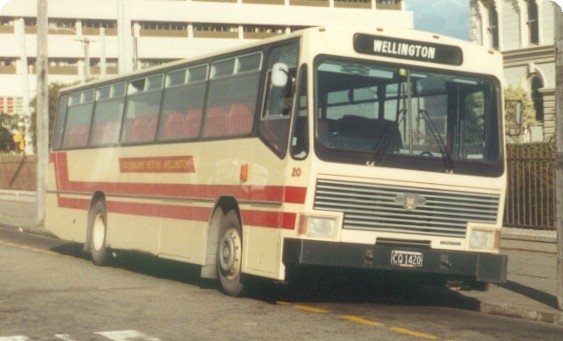 Yes, here is our (and EBC's) No. 20, 1958 Leyland Royal Tiger Cub, in its post-1984 condition (and in EBC livery) after acquiring this distinctive NZMB Commuter II body. Details are in an earlier RS.
(Photographer unknown – if anyone knows, please let me know – Ed.)
                322 (AEC) and 462 (Leyland) are the charter workhorses and are performing well.
NB Our fleet needs constant care. Tuesday work nights at Karori Depot could use more people. If you don't mind getting your hands a bit dirty, and, irrespective of whether or not you have any particular expertise, the small dedicated team of regulars would welcome your presence and support.
            OBSERVATIONS…Thanks to Anthony Greaney, Graeme Inwood,  Morris Moller, Harvey Paterson, Peter Rendall,  Nick Stoneman, Peter Thompson
            CHRISTCHURCH – Nick reports that, on the Christchurch front, Leopard have handed back for re-tender the contract for the 24 Hyde Park - Woolston service. It's not doing as well as first thought. Also here, Leopard have sold off more buses this time, we think to Citibus. So by the time Running sheeT is out, he says, we will know and we will be a bit closer to the latter company taking over the contracts in Dunedin.
Peter T. reports the following recent additions to Redbus, noting that all regos are checked from photos: 699/ CZZ672; 700/ DAH303; 701/ DAH304; 702/ DAH310; 703/ DAH311; 704/ DAU242; 705/ DAU246; 706/ DHE692; 707/ DHE687. All are new tag-axle MANs, B51D (though not all are to this seating/body configuration).
            DUNEDIN – In Dunedin, Nick says they are just waiting to find out what the results of the tenders are for all the work that Otago Road Services currently provide under contract to the Otago Regional Council. Their SLF bus is up for sale as of today (9/05/06). It's had the personalised rego removed and is now registered DGZ something.
He adds it's now confirmed who got the tenders for all Otago Road Services work and, sadly, Otago Road Services have lost this work to Citibus which means that ORS will no longer have any contract work as of the 30th June this year.
            HAMILTON - On the Hamilton front, Nick notes that Go Bus have had another batch of Designline MAN 12.223s delivered, with three being used for a free CBD shuttle service. These three are B39D as follows:
79/ DFF257 (LPG);  120/ DGJ514; 121/ DGJ519
The rest are MAN 12.223 B43D the same as the Tranzit and Mana ones, as follows:
186/ DFQ 729; 187/ DFQ 733; 188/ DGJ 502; 189/ DGT 321; 190/ DGT 322; 191/ DGT 335; 192/ DGZ 810; 193/ DGZ 802
As well, Go Bus have some Stagecoach Auckland 1981/2 MAN SL200s, Hawke B45D, on lease. They are 1603/ KI6725; 1604/ KI6726; 1605/ KI6727; 1616/ KN4881; 1656/ KX9530
Go Bus have also bought 1671/ MD1203 and 1678/ MA6604 of the same type, but of 1985 vintage.
HAWKES BAY –  In this issue, we have three correspondents on Nimons, covering seven months.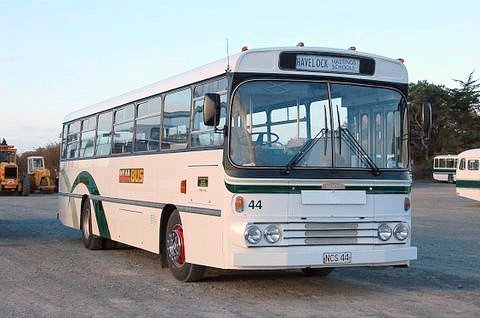 A very smart Leyland, Nimons 44, ex-Newlands/ Mana.     Photo: Anthony Greaney
First, Anthony reports and updates us on Nimons as follows:      
            79 & 80 went away to KBBL earlier this year as Bristol RELL/ NZMB "Hess" B47D vehicles and have just returned on recycled Volvo B10M chassis with refurbished B51F bodies. Kiwi refurbished the bodies and also gave them new front and rear ends. From the photos it's hard to imagine there is a NZMB "Hess" body lurking underneath. 79 is DGY926 and 80 is DHM238. I have not been able to confirm, but I would assume using KBBL's usual naming convention, they would be KBBMVO Volvo B10M models. (Anthony has sent photos which I will use later. For those familiar with Mana Coach Services' 70 and 71, also employing B10M chassis and ex-Bristol Hess bodies, and used on Kapiti Commuter services to Wellington, Nimons new rebuilds are similar.)
Repaints:
44 (NCS44) has just come out of the paint shop resplendent in its Nimons livery. It is now working out of Havelock North depot doing Hastings school runs. Its other Mana stable mate 66 (NCS66) has just gone into the paint shop for its "do over". (I drove both these buses on similar duties when they were at Kapiti – delightful, especially 144, as it was then numbered. 44 was Hawke-bodied, ex-Invercargill, and 66 was NZMB-bodied and ex-Dunedin – Ed.)
(Kiwi Bus Builders Lld. chassis codes:
KBBL have been remanufacturing recycled chassis for some time now -- to date on Volvo B10M and M/Benz 0305 chassis. These chassis are deemed to be new and comply with the 30 year rule. For those not familiar with their rebuilt chassis codes designations this is what they represent:
Format: KBBemm components.
KBB = Kiwi Bus Builders.
e = engine position . M = Mid mount. R = Rear engined.
mm = Two letter code denoting chassis. To date VO = Volvo. ME = M/Benz.
components = Components of model used on chassis.
To date, two types of chassis have been made: KBBMVO Volvo B10M and KBBRME Mercedes 0305).
Second on Nimons is this report of a recent visit from Harvey Paterson which complements both the above nicely, and also some earlier notes:
            An interesting visit -  apart from frothing at the mouth at the line up of former Wellington Leyland Leopards, my attention was drawn to a very tidy Bedford SB, a trad NZ Motor Bodies example dating from 1967 and new to Northshore Transport. It had been tidied up ready for collection by new owners, Motat, Auckland.
Next to catch my eye was a pristine Leyland Leopard ex-Invercargill, more recently Newlands 44 (and latterly Mana 144). This vehicle has been completely re-panelled and resplendent in its new livery. The Company was hoping to buy sister vehicle, the former NCS 45. Unfortunately for all concerned they were beaten to the cheque book draw by a movanner.
New in the fleet is a Mitsubishi school bus. Based on a truck chassis this is a prototype for a possible series to replace Bedford school buses in the fleet. With 200 hp it performs very creditably. It is fitted with a Kiwi bus body. New also were a number of Volvo B10s, one with a new Kiwi body , another a rebuild from a former Hess-bodied Bristol RELL. They looked well alongside the former Australian Army B10s. Another interesting new arrival was a Van Hool bodied B10 import omnibus from the UK. It probably felt at home parked near two Optare Pacers also from the UK. The latter never seem to be very popular here, particularly because of the cab and driving position which becomes unbearably hot during the summer months.
Charter coaches included two B12 Volvos. Among vehicles for sale were included a Volvo B58 and a Hawke-bodied Volvo.
The visit was a bus foamer's delight.
And last, but far from least in these visits to Nimons, is this contribution from the inimitable Graeme Inwood. (Sorry it's taken so long, Graeme!):
            4-30 am Wednesday 5th October 2005. Overcast morning, bloody dark (damn daylight saving). Drop wife off at her work at . Then I'm off to Hawke's Bay to photograph buses. Well, what else would a bus driver do when he's got a week off?
First stop Upper Hutt. I had arranged with Wayne Little to borrow his wife Tanya for the day. It was going to be a long day and having good company would make it go faster. Also having some one come along who is interested in buses helps a lot as well. From when I dropped my wife off until the Takapau plains the weather did nothing other than RAIN. However, the Hawke's Bay forecast was for a mostly clear day with a few showers coming off the ranges. As the rain stopped I turned off Highway 2 and on to Highway 50. No shorter in km's but a great time-saver.
Spotted an unusual bus with a NDNZ badge on it at Dannevirke. Will get that on the way back.
We got in to Napier about 10-20 am. Time for a cuppa and a stretch. Tanya now knows why Napier does not have a sandy beach, only a stony one (1931 earthquake). Past the old Napier prison and hard labour quarry, now a Backpacker's and park. Over the hill via the Bluff lookout. Down by the West Quay buildings we sight a 1971 Daimler Fleetline. Tanya not impressed at all - RMs rule. Over to Nimon's Napier yard in Tyne St., Pandora. I had already sent an email to the Operations Manager of Nimon's for permission to visit and photograph. Ian Hughes replied that it was OK and to make myself known to him at Havelock on our arrival, and to Max, the Napier supervisor. Tanya and I had a word with Max, and out came the cameras.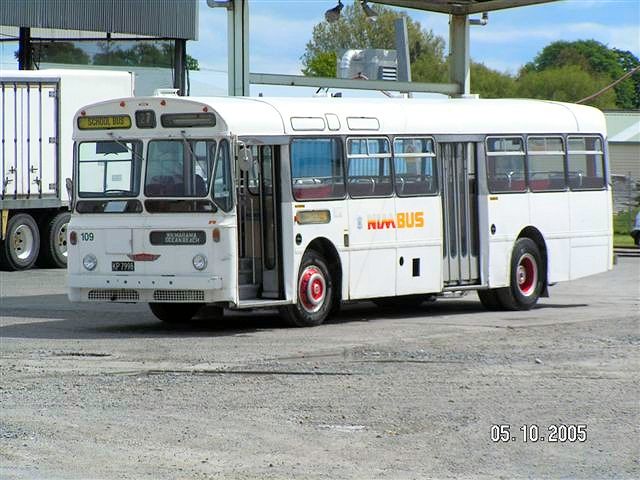 Another smart Leyland, Nimons 109 (ex-WCT 466).         Photo: Graeme Inwood
The first sight that we fixed our eyes on were the ex-WCT Leyland Leopards. Six of them lined up with engines running, giving batteries a charge-up as this was the second week of the school holidays. Where was their newest bus, f/n 100, the gold bus? Smack in the middle. What great company it keeps. I photographed everything in the yard. Although a number of coaches were out,  the older fleet members were there, from f/n 1, a 1980 Volvo B58 ex-Fourways to a R1114 Ford, plus a sprinkling of Bedfords, a Fuso, a couple of Toyota Coasters and other minivans, and coaches ex-Reesby and Ritchies. There was f/n 15 Volvo B10 with Hawke body taken from WCT 445 (& extended). Leylands in the yard were 102 (432), 106 (447), 108 (450), 117 (463), 118 (420), 119 (430). The staff at Napier even moved 100 out of the line so that we could get pic's. Then the Leylands were moved out one at a time for us to photograph. Three ex-CTB Bristols were in the yard,  f/ns 76 (589), 77 (591), 80 (599). So a great big thanks to Max and the guys at Napier, and it was off to Havelock North.
At Havelock we introduced ourselves to Ian Hughes (ex Newlands). Ian showed us around the yard and explained about the management change over this year. He was very helpful and then left us to do the photo thing. Leylands, of course, came first, a very nice line up - 101 (426), 103 (434), 104 (443), 105 (449), 107 (453), 109 (466), 110 (470), 111 (446), 112 (454) 114 (468), 115 (459), 117 (463), 118 (420), 119 (430) & 116, ex Dunedin 193 Leyland. 111 was in the workshop having a couple of window rubbers replaced. A good selection of DoE Bedfords and school mini buses were in for their school break servicing. Two RK Hinos, a MCW Metrorider, a Volvo B10 Van Hool coach ex UK (& looking good) were to be found. F/n 14 is a Volvo B10 with extended Hawke body (ex WCT 405). F/n 64 Ex Newmans 256 Volvo B58 was in the workshop while sister bus f/n 65 ex Newmans 257 was at the back of the yard looking very sad. F/n 58, a burnt out Bedford and a couple of old chassis were in the back corner. Three more Bristols were at Havelock, f/ns 78 (594), 79 (597) & 81 (580). F/n 20, a 1977 Seddon Pennine will be replaced when the next new bus is delivered. Any buyer's ??. The visit did not include any "on street" sightings due to time constraints. A big thank you to Ian, and we left about .
At Dannevirke I had a look at the NDNZ bus that was at White's. F/n 45 XK5380 1998 Nissan Diesel RBS501, fitted with an old (ugly) body. Back to the return trip and very heavy rain to south of Woodville, with a lot of flooding. Dropped Tanya off at Picked wife up at 6 -25 pm, normal time ! A great day out, good company, good subject matter, lots of pic's, long day but worth it. And the car needed a good run, anyway.
            WELLINGTON –
            Stagecoach/Infratil/NZ Bus – Infratil-owned NZ Bus, trading under the Stagecoach name, are still not owners of Mana Coach Services. The firm was taken to the High Court on 30 March by the Commerce Commission after NZ Bus withdrew its clearance application (to the CC) on 13 March, saying it would proceed with the acquisition on 3 April. MCS seems determined to sell, so your guesses as to the identity of a possible new owner are as good as your Editor's guesses – Tranzit?....Madge?....someone further north?....or south? Personally, your Editor does not care too much about commercial competition as long as comfortable, efficient and reliable services are provided by an agency that knows something about all requirements of the industry, especially those of the passengers, to use an accurate but now unfashionable word.
            The other issue in Wellington is the retention or not of the city's valuable trolleybus system. Much uninformed comment has occupied letters columns in the papers, demonstrating often, the insularity and ignorance of the writers. Comparisons of aging trolleys with two or three year-old diesels just do not cut the mustard as arguments. Most writers seem unaware of new sophisticated trolley (and tram) systems overseas. Most recent shots were fired by the regional council, castigating LTNZ roundly for its continued deferring of a decision on trolley funding.
WELLINGTON GALLERY
Here's a shot of  OS member, Richard Potts' (Classic Coaches) neat and workmanlike Volvo in the firm's pleasing livery.
It's at Wellington Station and the photo is by Nick Stoneman.
            Mana Coach Services –  Porirua – Austral-bodied Hino BX341 33/ NA4779 is here at present (ex-Kapiti) being employed on service runs – at Kapiti, it was used largely as a school bus and emergency spare. Volvo B6FA 12/ RX 8163 has been at Kapiti having extensive engine work done, but has returned to Porirua. At present away at Kapiti, also for engine work, is 39, Volvo B10M, one of the ex-WCT Ansaldo trolleybus conversions.
                                      Kapiti – See the Porirua section above. With the company awaiting a High Court decision (due very soon) about the possible sale to Stagecoach/ Infratil/ NZ Bus, there are clearly no new fleet additions at any of the three depots to report!
          ENQUIRIES AND REPLIES…
                        Henry Brittain has replied as follows to the interesting query about Northland trolleybuses from Alan Smith, that appeared in the last RS:  
Mike Flinn thinks they ceased in the early 1980s as he was still working for Wellington City Transport at that time. He has some movie film of them taken not long before they ceased, but he has not recorded the actual date. It could be recorded in John Herbert's jottings and I will have a look through these when I am back from holiday in July.
Northland buses were stabled at the Karori depot and the first morning buses left this depot and travelled up Morley Street, turned left into Karori Road (this turn was taken out when Northland closed) and then proceeded along Karori Road, Chaytor Street and then took a left turn into Raroa Cresent. At the cross road, they turned sharp left into Northland Road and then to the terminus.
At the end of the evening service they travelled down Northland Road, and then did a sharp U turn into Chaytor Street (at the corner of Birdwood Street) and then back to Karori. When they reached Chamberlain Road they turned right and went down to the depot. This turn was also taken out when Northland closed which coincided with the cessation of trolleys using the destination of Karori PO instead of travelling right down to Karori Park to facilitate their return to Karori depot as they do now.
Northland buses carried route number 13 when they first commenced in 1955 and travelled down Tinakori Road to Molesworth Street instead of using Bowen Street which they only used in evening peak services. The Tinakori Rd. line would most likely have been disconnected in the 1970s when Wadestown was curtailed for the motorway construction, and not reinstated when Wadestown was reinstated. After that, Northland buses used Bowen Street as their normal route into the city.
The route from Karori to Northland and return, apart from having very tight turns and intricate overhead, would have caused traffic delays especially when negotiating Raroa Crescent and the Northland Rd, Chaytor Street, Birdwood Street intersection. I recall seeing trolleys losing their poles on this latter corner with the bus stranded across a busy intersection with the consequent disruption to evening traffic.
Alan, in thanking for this, comments as follows: Tinakori Rd. was disconnected by March 1967 (photos of tower wagons removing wire at that time).This was triggered by motorway construction between Hill St – Grant Rd and removal of lamp-posts etc. on the east side of the road. Didn't know about the 2-way Karori Depot access wires, Karori P.O. destination etc – great to have this on record.
______________________________________________________________________________
            Mike Secker, 63 Glen Road, Raumati South, Kapiti  6010.  Ph: (04) 902 1173  Fax: (04) 902 1174  Mob: 027 426 7901
Email:  mikjan@clear.net.nz