RUNNING SHEET
MARCH/ APRIL, 2011
The Newsletter of the Omnibus Society Inc., PO Box 9801, Wellington, NZ
Editor: Mike Secker – Contact details at the foot of the last page.
MUCH MISSED:
Bert Snelgrove 3 January, 1920 – 16 January, 2011   (Tranzit Coachlines)
John Waddell 27 July, 1927 – 22 February, 2011  (Mana Coach Services)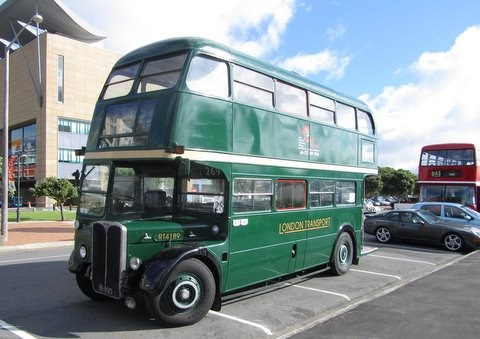 <![if !vml]>
<![endif]>
To open this issue, here's a handsome beast in the livery it originally wore at the start of its LT life, the Country Area green. It is Foxton resident RM4189, used on the Capital E charter for almost two weeks in March, 2011. Our buses 322 and 462 were used on this, too, driven by Henry Brittain and Morris Moller. Henry adds that the two were under charter from NCS Coachlines and ran faultlessly despite carrying  full loads of schoolchildren every day. They generated useful income for the Bus Operating Group. (Photo: Morris Moller)
            OUR SOCIETY, DEPOT AND FLEET… 
REMINDER – SUBSCRIPTIONS ARE OVERDUE !  Morris  advises that  there are 18 overdue at publication date.
                …HAPPENINGS AT KARORI... thanks to Peter Rendall and Henry Brittain for this information.
            The workers have been busy of late - much as we try to stagger the COF expiry dates of the operating buses they always seem to move together. At present we have 322, 462 and 20 to get through inspection. 322 failed when first presented - nothing major but little things that take some time to correct - a couple of diesel leaks, one of which was exiting through the fluid flywheel housing. The flywheel was losing a bit of oil as well. It is now fortunately fixed as we still have some remedial kits on hand. Another defect was the indicator bulbs being too dim. Original spec was for 6w bulbs, but today's standards require brighter lights, 21w being standard. By the time you read this, 322 should be road legal again.
            462 has been inspected, but we noted a couple of issues that needed fixing - one is oil leaking from the steering box, and the second is a suspect ball-joint in the steering. The bus has headed out to Boss to get Malcolm, Leopard expert, to remedy these - hopefully there are no unsuspected things going to pop out of the woodwork to bite us.With these two absent, we have put 20 over the pit, and are dealing with a number of small rust issues in the body framing. Next week we will give it a mechanical and electrical survey to ensure that all is well there.
            Henry says that 322 and 462 were at Boss Engineering (Malcolm Little) at Taita in early March, in preparation for the charter work mentioned in the caption for the RT photo above. Henry also adds that the two will be in Palmerston North for an old-time event on the Saturday and Sunday of Easter and, by then, 322's badly worn lino will probably have been replaced.
            With all this done, continues Peter, 90 can go back over the pit and its A overhaul can continue. We are thinking about despatching 397 off site to get its paint job completed, or maybe pay someone to do this job as spray painting is not one of our skills at present. After 90, 3583 might come in for some care and attention. After that the Beaver and the VAS might share the pit while we give them a B overhaul. The Beaver's starter motor is being overhauled, which should make it easier to get the old girl firing up!
            Quietly pottering along in the background - thanks largely to our woodman, Jim Austin, 95 and 49 are being worked on. Also, a survey of 95 after it became mobile again, exposed some rot in the front door pillars. To get at these meant the removal of the front steps which were also found to be less than perfect. The wood was borer-ridden and starting to rot and will be replaced so if anyone needs firewood call by Karori. The steel holding the steps was also found to be suspect, so it is being derusted and reinforced with new metal angle irons. On 49, work has moved to the front where timber round the cab is being assessed and, where necessary, replaced. The body framing behind the front bulkhead is largely complete, so one day I guess we can look at reinstating roof metals and contemplate new ply etc on the central section. This will be a major challenge but fortunately the mode of construction is very similar to that of the trams, especially Fiducia trams, which were under construction at the same time as 49 was built. Mike Boyton's AEC Reliance 6 (see photo in RS Aug/Sept, 2010), which is part of the fleet, is now road legal and doing the occasional charter - the South Island branch of the fleet is operational !
            …BOOKS FOR SALE…Morris advises he has these for sale to members:
On the Buses in New Zealand  $40-00   (1 copy, reduced – slight water damage)
                Te Kopuru – Dargaville Bus Company Ltd    $6-00 each   (2 copies)
                Composites – New Zealand Freighter Coaches    $12.00 each   (9 copies)
                Whangarei Buses a brief illustrated history   $13.00 (9 copies)
               New Zealand Buses Prior To 1930   $7.00 (5 copies)
               Over The Plains To Thames   $6.00 (9 copies)
               Buses & People - a New Zealand album   $12.00 (3 copies)
               Wellington's Volvo Trolleybus Finale   $7.00 (17 copies)
                South Island Buses in Colour   $12.00 (13 copies)
                North Island Buses in Colour   $12.00 (6 copies)
To purchase any of these, contact Morris Moller Ph. (04) 477 9467 Mob.027 216 2304 or email morrismoller@slingshot.co.nz  
Gus Weir's World Tour of the UK
Part Nine: Hither & Yon
            Our 2006 visit to UK included, after seeing Glasgow and Edinburgh buses, continuing northward to the top of Scotland and some of the towns on the way. I saw Stagecoach vehicles operating out of Inverness; here they seem to masquerade under the name "Bluebird' which I assume is the name of the previous operator, since taken over! I believe this company previously owned the Bristol VR double deckers which ran from the Railway Station to Te Papa in Wellington a few years ago. The Inverness vehicles have a Stagecoach livery variation featuring a stylised bluebird on the white side panel of each bus.
            Other buses seen in the North were from the Rapson fleet which has subsequently been taken over by Stagecoach. Rapsons had many vehicles of various makes with some in the company livery of dark blue and others in the Citylink express bus service blue and yellow livery.  Citylink express city-to-city services are also Stagecoach-run with many vehicles provided and apparently run by local operators. 
            Making our way south and expecting a normal highway, we took the West coast road from Mey, near John O' Groats, to Ullapool. This was almost a mistake, as it is a single lane unsealed road with passing loops used by what appeared to be many continental drivers driving camper vans heading North. These drivers were quite arrogant and took the right of way at each crossing point whether theirs or not, leading to quite a few hair-raising passing manoeuvres. It was a relief to get to Ullapool.  A Scottish coach we followed on the way from Ullapool to the Kyle of Lochalsh was a Volvo B12 with a Van Hool body, part of the Henry Crawford fleet, a tour operator working out of Glasgow.
            We returned to Glasgow and an overnight stay before taking the train to Edinburgh to see the Tattoo then returning to Glasgow for the night. All this was because we could not find accommodation in Edinburgh due to the Festival. Leaving Glasgow next day, we visited the Robbie Burns birthplace in Alloway and indulged in a little heritage stuff. Further south, we arrived at Windermere in the rain for the next overnight stop. Next day, before leaving Windermere still raining, we did a quick tour of the town and noted that at least 90% of houses were B & Bs, indicating many visitors during the season. Being a tram nut I was looking forward to our next destination, Blackpool. However, the day was miserable and wet and, although I did take some tram video, we did not stay long and I was grateful that we had been there two years ago and had some sunny video and still shots.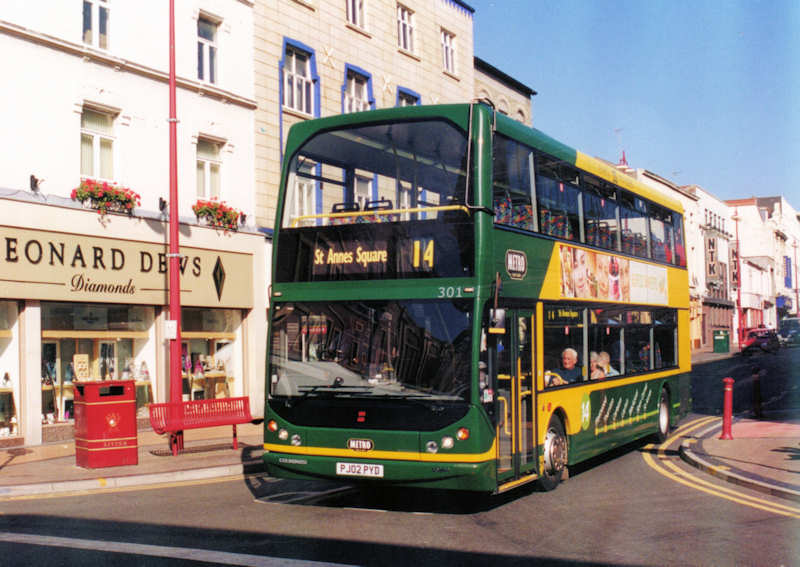 Blackpool No 301  Dennis Trident in Route 14 "Metro" livery.
Blackpool has, in addition to the well known trams which service the Promenade, a large fleet of buses serving the rest of the city. When I was there, the buses and trams were undergoing a change in livery to the 'Metro' livery which, although the pattern was standard, each bus was dedicated to a specific destination and the colours of the livery varied with each destination. As well, a diagram of the route the bus was on was depicted on its side panels. The fleet included a variety of Optares, Leyland/Volvo Olympians, Leyland Atlanteans and Dennis Tridents.
From Blackpool in 2006 we went, with one night in Chester, to Wales, checking out the Great Orme Tramway at Llandudno and the delightful narrow gauge railways, the Ffestiniog Railway at Portmadog, and the Snowdon Railway at Llanferris, before arriving in Cardiff. 
Cardiff Bus 603, a Scania Omnicity L94UA  (Both Photos: Gus Weir)
I enjoyed the Bws Caerdydd (Cardiff Bus) buses in their dark green and off-white livery. There was a variety of vehicles in evidence, Transbus Darts, Leyland Lynxes and a new fleet of Scania L94 articulated buses.
From Cardiff our journey took us to London Heathrow and flights to North America.
More follows in Part Ten.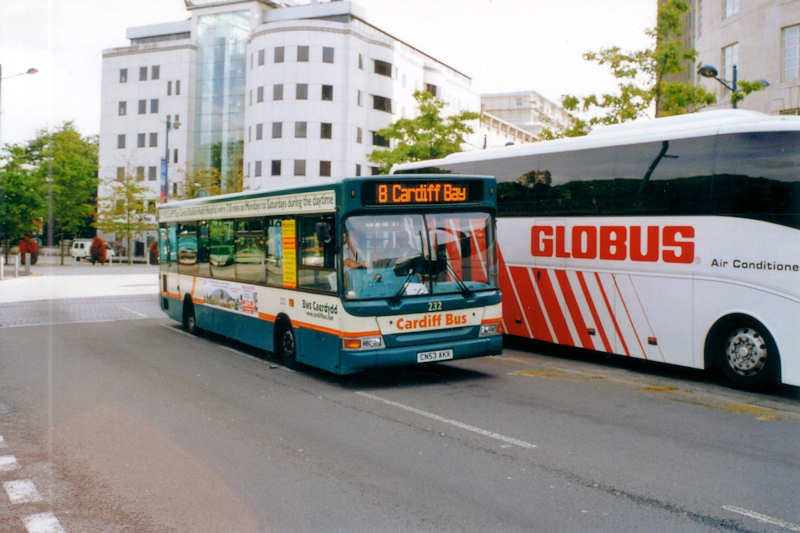 Bonus photo. Imbedded in the Word file I received from Mike Secker was this photo of Cardiff 232. It was back to front (but easily reversed with paint shop) and doesn't appear in the hard copy Running Sheet. I would appreciate a correct caption for this photo from someone in the know. Mike Butler
          OBSERVATIONS…Thanks to Michael Boyton, Henry Brittain, Graeme Inwood, Peter King, Morris Moller, Allan Neilson, Henry Steele, Alan Wickens
                (I'm very pleased to note that correspondents Alan Roi and Nick Stoneman have escaped physical harm from the Christchurch earthquake, apart from damage to their dwelling places and, of course, all the difficulties that come from living in an area as badly stricken as the city is.  We wish them well in their own personal recoveries.  Mike Secker)  
                CHRISTCHURCH – See WELLINGTON re fourteen ex-Redbus MANs going north.
            Designline – the workforce at Designline's Rolleston factory should increase in number, reports the BCA CIRCULAR , through a joint venture to build a Designline factory in the United Arab Emirates which is expected to produce up to 300 electric buses each year. MD, Andrew Green, said the Abu Dhabi factory would mean prototypes, components and kits would be NZ-made and the buses would be assembled in the UAE.
            HAWKES BAY –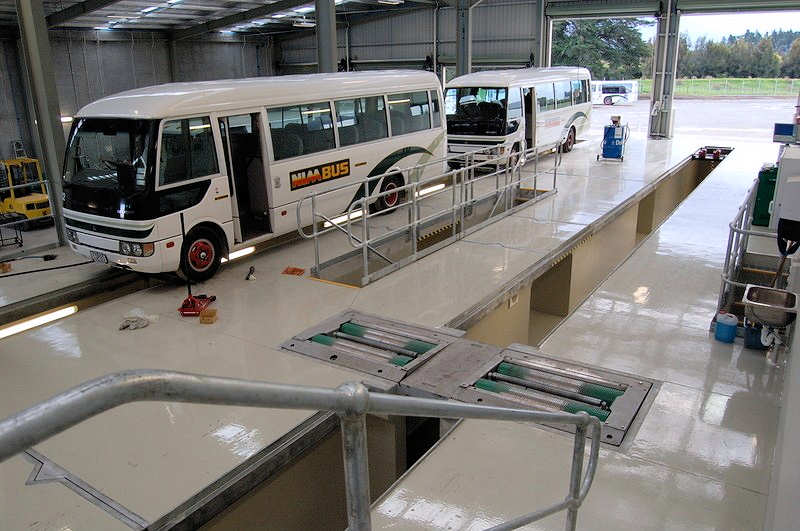 Nimon's workshop at  the new Depot during its second week of operation at Whakatu. You could eat your lunch off that floor! Peter King comments: "Still can't find stuff, buses or people!" (Photo: Peter King) 
Apparently, a supermarket will be built where Nimon's old depot was situated, at Havelock North. (I feel a twinge of nostalgia coming on! – Ed.)     
            HUTT VALLEY – Henry Steele sends information with this photo that a near sister of the ex-Newlands/ Mana vehicle below is 135/ NCS35, now with Titahi Bay Charters but registered FLM7. (Before being sold, it was at Kapiti Depot and I had the pleasure of driving it on a number of charters – an excellent coach despite its age. – Ed.)
<![if !vml]>
<![endif]>
Here's an old friend though it doesn't at first look like it. The clues are the splendid Tiger badge on the grille and the registration NCS38. It is ex-Newlands (1)38 now in the employ of Malcolm Little's NZ Coach Services (NCS). It's on Rail Replacement at Taita Station on 9 Decenber, 2010. (Photo: Henry Steele)
            Runciman Motors have recently sold their Masefield St. depot, used since 1985, having already sold their Upper Hutt services to NZ Bus in 2003.
            NEW PLYMOUTH – North Taranaki people, reports the BCA CIRCULAR, must use their Tranzit-operated, New Plymouth-based, bus services that began last year, or lose them.
                NELSON AREA -  During March, says Mike Boyton, I was moonlighting from my usual Wine Tour run, driving Mike Bromell's ex-Newmans and Ranui Buses Merc (see below) from Nelson down to Lake Rotoiti and return. First time I have driven the Merc. It runs beautifully, and sounds nice. It is great to have it operating around the district as another historic coach. (The livery is a skilful tribute to the coach's history. It bears the rego IM A BUS. - Ed.)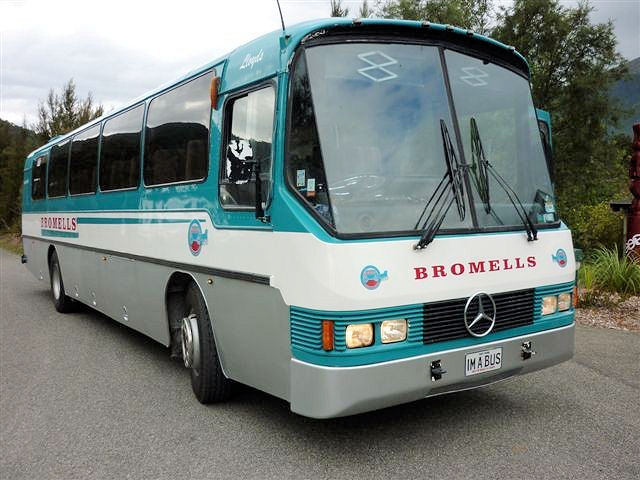 Bromell's Mercedes coach in its Newmans-style livery ( Photo: Mike Boyton)
Wadsworth's very attractive livery on the Mitsubishi Fuso and the Scania at Pelorous Bridge, mentioned in the short selection of the firm's buses sent by Mike.( Photos Mike Boyton)
I drove the Scania on 14 March; it goes very well (like a cut cat). Earlier, on 4 March, I drove the old ex-NZR Hino 6021 (1070IC) across from Nelson to Picton. The buses stayed over in Picton for nine days before going back to Nelson on their next (school camp) job.
Mike supplied a brief list of some Wadsworth vehicles including the two pictured:
                1070IC Hino BG100 1981 Wadsworths fleet # 1, ex NZR 6021 JQ5235; & Bayline Tauranga
                UO9438 Volvo B58 1976 Wadsworths fleet #12, ex Newmans 028 IA2585
                BWC639 Scania K112 1988 Wadsworths fleet #19 (Mike thinks), is ex Leisure Travel, Nelson
                ANK988 Mitsi Fuso 1990 Jap import, to Wadsworths from somewhere in Auckland  (28 seat)
            ROTORUA  - The BCA CIRCULAR reports the fact that this city may soon be enjoying a 24 hour hop/on hop/off bus service through the central city and to major attractions. Operated by Newman's Intercity, it would be aimed at visitors and tourists during the Rugby World Cup.
            WANGANUI –  Also from the above publication, bus use is up here, with 7000 more people using buses up to February, compared with the same period last year. The Horizons Regional Council is working on a long-term transport plan for the city.
            WELLINGTON –  Something a little different replaces a train.........
Seen by Allan Neilson on 6 April at Platform 9, Wellington Stn. at 8.00 am.., replacing a Melling Line train. Allan says he was blown away! This fine Leyland Olympian with ECW body was acquired by Wayne Little from the Salvation Army in Southland for scenic tour work in Wellington, which work it will share with the green RT on Page 1. Some of you will recall Wayne's RM, now sold. No one will be surprised that The Dominion Post identified this one as a London bus – this type of Olympian never worked in London on LT routes. (Photo: Allan Neilson)
            Mana Coach Services  –  Kapiti – Here, Volvo B6/Hess 49 has rapidly disappeared from its virtually complete state, as pictured in the last RS, and is dismantled for spares and scrap. Volvo B10 117 (Ansaldo) has disappeared entirely for the same reasons. "Newlands"–signwritten Volvo B10 114 has been at Kapiti for some time awaiting remedial work and, very occasionally, seeing some use, your Editor using it a while ago on a school technology trip.
            Go Wellington – CEO of NZ Bus, Bruce Emson, has resigned. Zane Fulljames, Chief Operating Officer, is his replacement.
            Graeme, Henry B. and others report that NZ Bus has bought 14 ex-Redbus 3-axle Designline MANs, all for Wellington starting a new F/N sequence from 1501. Graeme reported five arriving via the ferry on 24 March. (I actually saw this as I was driving a charter in town at the time they were being driven away from the ferry. – Ed.) Then Graeme wrote that four more arrived on 3 April, and the final four on Friday, 8 April. He noted that Redbus F/Ns are 685, 686, 688, 689, 690, 693, 694, 695, 696, 699, 701, 703, 704, and 705.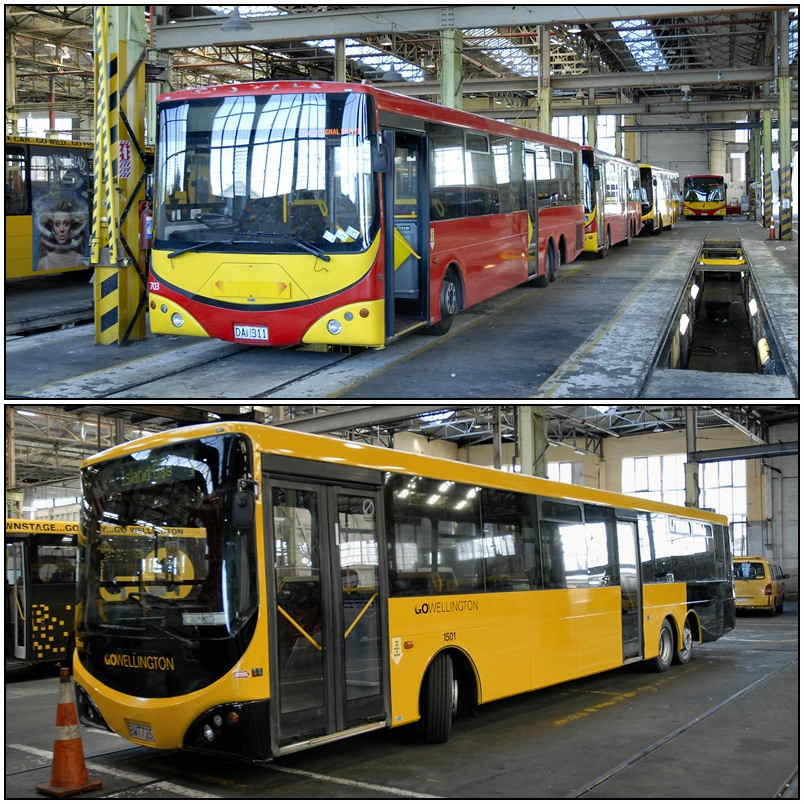 Here's a nice comparison at Kilbirnie of (Upper) 703 in Redbus livery and (Lower) 685 in its new guise as Go Wellington 1501. Note that this bus was renumber 2301 before entering service. (Photo: Alan Wickens)
            Graeme adds that the MAN 16-200s F/N 172 - 181 ("coffins" – look at their body shape) have to be off the road by mid year, with 171 already at Runcimans. The SL 202s have to the end of 2011 but the four remaining ones with the lowest F/Ns will go now as well. In fact, 142 went to Auckland on the 9 April. Four of the ex-Redbuses may go to Auckland until their new buses come on line. There have been rumours that the Scanias were going to Auckland. They are staying but the two ex-Hong Kong B10s may be withdrawn soon.
            Your Editor noted, as, no doubt, did many of you, that The Dominion Post of 15 March, 2011, published an article saying that the new trolleybuses had been pulled off route 7 to Kingston, apparently because a "$100 steering part" failed on a bus on Brooklyn Hill on 23 February. The buses will be fitted with a new part. A "man in the street" opinion was published also, being of the "public transport is rubbish" uninformed variety seen too much in our daily press. It is not clear whether 2-axle prototypes 301 – 303 are involved.
            Electronic "real-time" information is to be provided in the near future, with Go Wellington buses being provided for first, then Mana/Newlands and Valley Flyer buses. Electronic displays will be fitted to bus stops over the next ten months. Checking by text will be possible, too.
Editor:  Mike Secker, 63 Glen Road, Raumati South, Kapiti  5032.  Ph: (04) 902 1173   Fax: (04) 902 1174  Mob: 027 426 7901.  Email:  mikjan@clear.net.nz