RUNNING SHEET
MARCH, 2010
The Newsletter of the Omnibus Society Inc., PO Box 9801, Wellington, NZ
Editor: Mike Secker – Contact details at the foot of the last page.
            DRIVERS… The Society often needs the volunteer services of any member with a "P" licence who can offer to help drive some of the Society's charters, which are a source of vital revenue to help fund the maintenance and restoration of our vehicles. If you wish to gain a licence, the Society can help you do this. Please phone Henry Brittain, Ph. 476 4155, or Peter Rendall, Ph. 970 1405.     
            OBITUARIES...  (I thank David Jones for this  – my years in the UK made me familiar with Andrew's name.-Ed) Andrew Johnson of the PSV Circle has died in England. He was one of the founders - if not the founder - of the PSV Circle and a lifelong member. He was active almost to the end of his life and, in his mid eighties still making annual trips to South Africa whose buses he had a particular interest in and for which he produced published fleet lists.
Andrew was a very kind and generous man who helped me enormously in getting to understand the make up of my "home" fleet - City Tramways of Cape Town. We corresponded on the subject for a number of years and he was most helpful and generous in sharing information. I am not sure that he ever came to NZ but some members of the fraternity here are aware of him and the invaluable work he did and encouraged others to do. He will be missed. – David Jones.
                                    TOM McGAVIN (1920-2010) – though not a "bus man", Tom McGavin was a supreme transport enthusiast. In his case, of course, railways were the focus and his founding of the NZ Railway and Locomotive Society is his lasting legacy. Many of us in the Omnibus Society are railway enthusiasts also, and we mourn his passing and salute his achievements. – Mike Secker.
            OUR SOCIETY, DEPOT AND FLEET…  
Our aging fleet needs constant care. On Tuesday work nights at Karori Depot, the small dedicated team of regulars deserve our thanks and could use more people. If you don't mind getting your hands a bit dirty, and, irrespective of whether or not you have any particular expertise, the team would welcome your presence and support.
            …MORE BOOKS FOR SALE…Morris advises he has these for sale to members:
On the Buses in New Zealand  $45-00 each    (1 copy  – slight water damage)
            Te Kopuru – Dargaville Bus Company Ltd    $6-00 each   (2 copies)
            Composites – New Zealand Freighter Coaches    $12.00 each   (2 copies)
            Whangarei Buses a brief illustrated history   $13.00 (9 copies)
           New Zealand Buses Prior To 1930   $7.00 (9 copies)
           Over The Plains To Thames   $6.00 (9 copies)
           Buses & People a New Zealand album   $12.00 (9 copies)
           Wellington's Volvo Trolleybus Finale   $7.00 (9 copies)
            South Island Buses in Colour   $12.00 (1 copy)
To purchase any of these, contact Morris Moller Ph. (04) 477 9467 Mob.027 216 2304 or email morrismoller@slingshot.co.nz  
...AN APPEAL from Mike Butler, our Webmaster...  he would welcome photos of the following buses as they are not illustrated on our web site: Leyland Comet CT3909; Leyland Lion CT3915; BUT 80 EV6755; BUT 90 EV6765.
Also, does anyone know which ex-Newmans Royal Tiger the society has stored somewhere?
...AN ALERT from member Alan Smith, Editor of newsletter ´Tramlines" for the WTM... the magazine, TRAMWAY TOPICS, came out earlier in March with a well-illustrated and well-written coverage of trolley buses, coinciding, of course, with trolleybus fleet renewal changes in Wellington. Copies are available from  http://www.wellingtontrams.org.nz
            ...FROM OUR SECRETARY, CONCERNING TROLLEYBUS 55... Members will recall that circa 1994, ex Wellington trolley bus 55 was advertised for sale. The bus was the last English Electric in service and was sold complete but minus trolley poles. When advertised, the bus was complete and, although located at Wainuiomata, had suffered the ravages of time since withdrawal. As the society did not have one of this model in its collection, five members each donated $200 and it was purchased as is and taken to Kilbirnie worshops for storage. Since then it has been stored at Kilbirnie, Trentham and finally Karori depot. Go Wellington, lessee of Karori depot, commented unfavourably about some of our buses sitting there deteriorating and taking up room, and asked what was happening to them. At the same time, the Society was approached by a local resident to see if we wished to sell any old buses.
            Given that we now had ex-Wellington trolley 80 from Foxton, in running order and the same as 55, plus Go Wellington wishing to smarten up the yard, and the departure of 55 would also mean our newly acquired Volvo 233, already stored at Karori, could be accommodated properly, the decision was made to dispose of 55. Consequently, the bus was stripped of all of its fittings and electrical equipment and sold for $700, supposedly for a storage shed, even though it was subsequently seen in a wrecker's yard.
            Although the society was aware who some of the five members were who bought the bus, we could not confirm who they all were and asking around did not help. Consequently we were unable to consult all five. So if you were one of those initial five and were not consulted in the decision to dispose of the bus, I trust that the above satisfactorily explains the background.
                                                                                                Henry Brittain. Hon Secretary
.
…HAPPENINGS AT KARORI…many thanks to PeterRendall for these observations:
 The practical side of the Society has kept busy over the summer. The arrival of large quantities of Volvo bits in the latter part of 2009 stretched our storage capacity. Most was stacked on pallets beside the Thornycroft - for which I'm trying to source a carburettor for its Leyland E60 donkey from the UK. However, things happen interestingly - Ross Jowitt of Auckland, who is doing up two ex Luxury Landlines vehicles, a Worldmaster and a Panther, came looking for spares, got the first lot and asked if we had a 680 that he could rebuild as a spare.
After a quick talk, we decided that we did, and a rather stuffed example and a short block were despatched northwards. The first block had a visible crack in the casting between cylinders 3 and 4 but the short block was fine. This entailed putting the MLZ outside so we could access the 680 stores area.. With 13 to do the loading, we found we had two spare bays. A bit of work saw three pallets of Volvo stuff stacked neatly away. As this was happening we were approached by a chap who wanted a shed - so the stripping of 55 became a priority and most of the bits we wanted were removed and stacked inside. We sold the hulk for $700 and 55's place in the fleet is being taken by 80, which is complete and sitting at the Tramway at Mackay's Crossing. The day 55 went, I got a message from a chap who wondered if we were interested in the bits he had stripped out of his BUT which turned out to be 96, at White's Truck Wreckers in Otaki. Neil Brown duly loaded 3 pallet loads of bits into his ute and carted them to Karori. So we have gone from having no BUT spares to having a reasonable selection, usable in 39, 80, 88, 90, 91, 119.
We were also advised that the storage site for Bedford VAL 9 and BUT 88  was to be sold, so had to do something. Mike Boyton had been wondering about a project to work on in Motueka – and 9 was chosen to head south - thus solving two problems. A reconnaisance trip saw it burst into life (once Henry took it out of gear) but the mould and moss made it hard to see out of the windows. We decided to return another day and clean the worst off - two waterblasters and a broom or two made a marked impression. It has moved as far south as the Tramway - and will move over the water after replacement tail lights are wired in - some nice persons had smashed the tail light assemblies on both buses! Once in Motueka 9 will be redone in the old NAC livery as sported by the Billy Higgs VAL and returned to COF condition. When done, maybe we should have a South Island tour? We failed in our attempt to move 88. A 3rd visit to the site by Neil B and Peter R saw us establish that all wheel sets rotated freely. The next stage will be to get a towing contractor to move it to Vic Draper in Pauatahanui.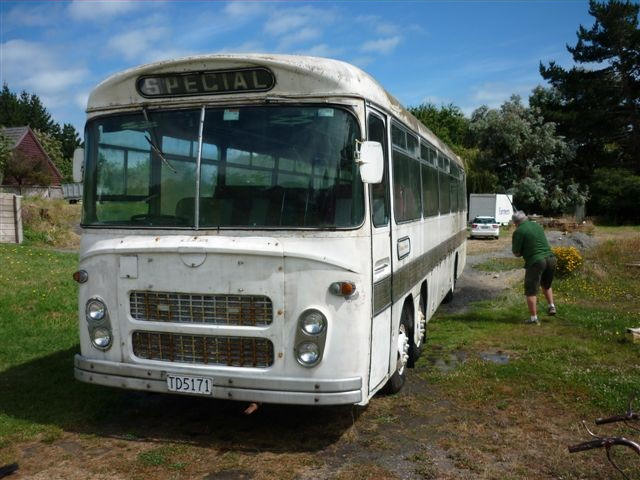 The Bedford VAL prior to being removed from Otaihanga to the Wellington Tramway Museum. The destination reads "SPECIAL" which, indeed, it is. Note, too, the well-known enthusiast cursing the idiot who damaged the rear lights. (Photo: Michael Boyton)
To store the BUT bits, and the Bristol RELL bits donated by Madge, Palmerston North, PR is building more shelves at Karori – Mike F is cataloguing. In late 2009, we also stripped what could be salvaged from the Crossley in Masterton (Arataki - I think it was ex NP 2 or 3). The back axle set is now at Karori and will some day head to Ferrymead. Not sure if we have reported this but one day, 322 was sitting quietly at Karori, when a GoWellington driver dragged his bus across its front, doing much damage to 322's bodywork and putting a 45 degree bend in the front bumper before tearing off the front of the bus. The bumper is now straightened and cracks welded up. (Thanks to Mainline Steam, organised by Lindsay C – thanks, guys). 322 is at Kilbirnie waiting for their severely downsized body department to repair it. Put mildly, it's very annoying as we'd just got a COF on 322, and it's now unavailable for traffic. The puncture on the VAS has been repaired, and with Firestone's help we swapped two of 55's good tyres for two of our not-up-to-COF standard ones. 90 is over the pit and in our spare time we are doing the myriad small jobs that need to be done to get it up to COF standard. 462 has been busy on holiday programme work, earning the necessary $$$ to keep its fellows restored and repaired
OBSERVATIONS…Thanks to Henry Brittain, Graeme Inwood, Harvey Paterson, Ian Robertson, Stephen Watkins, Alan Wickens     
            NEW PLYMOUTH  - (Stephen Watkins sends this interesting report – destination blinds do help chart transport history, and electronic displays don't have the same attraction, somehow.) Late 2009 saw the return of an iconic piece of New Plymouth public transport history to the city, with a full set of front and side New Plymouth City Transport (NPCT) destination blinds of 1980's vintage. These were graciously returned by Leopard Coachlines of Christchurch, after they purchased a former NPCT bus.The blinds (pictured below) graced NPCT 6, one of the first of six MAN SL202s purchased by the New Plymouth City Council for use by the NPCT division. They plied the streets of the city from 1986 until 1991, and amazingly remained intact on this vehicle until removal in late 2009.
            After deregulation of the industry in 1991, the entire NPCT fleet was sold to Hamilton-based Goldstar Buslines, who provided City services in New Plymouth, as well as City and School services in Hamilton. While the bulk of the MAN SL202s were moved to the Hamilton depot, one vehicle was retained in New Plymouth for the long-distance New Plymouth-Opunake-Hawera services, as well as for charter work. Financial woes at Goldstar and the closure of the sole New Plymouth long-distance route, saw NPCT 6 sold to E.C.Reesby of Rotorua in December 1991, where the vehicle was reportedly used for both School and Charter work. A more recent addition stitched onto the front destination blind reading 'Waipa Sawmill' provides an interesting insight into some of the other destinations this bus serviced during its time in Rotorua. Finally, in late 2009, the vehicle was sold to Leopard Coachlines of Christchurch, reunited with two of its sister vehicles, ex NPCT 1 and 3, where it now provides charter services and non Ministry of Education School services alongside its sisters.
            The blinds provide documentation of historic routes such as the Picture Bus, Rugby Park, Rata Street, Port and Smart Road routes, all of which merged or were abandoned in the late eighties/early nineties. While the blinds are currently in storage, the long-term intention is that they will either grace a refurbished NPCT vehicle, or will be used as part of a public transport display in one of the local museums.
            A debt of gratitude is owed to the staff of Leopard Coachlines, especially Bob Murphy (Workshop Manager) who approved the removal and the supply of the blinds, and to Mike Reader who alerted me to the sale of this bus, prompting the initial inquiry into procuring the blinds. While the staff of Leopard who were involved in this endeavour received a voucher for a morning tea in gratitude for their effort, owing to Mike's departure from the country,  he has yet to receive his.
A small section of the New Plymouth City Transport MAN SL202 6 front and side destination blinds (left and right respectively), showing some of the old city routes from the 1980s and 1990s.
(
Photo: Stephen Watkins
)
Note: Unfortunately the NPCT were not as generous  to school children at the time as I would have liked. Consequently, we did not receive many brand new MAN SL202 buses on school routes, which meant the yellow SCHOOL sign was a rather rare sight. Instead, we had to be content with 70s and 80s vintage 0305 Mercs (including the three rare units with ZF-HP  transmissions), Volvo B58s, and Leyland Leopards.
            PALMERSTON NORTH –  Growing Local Public Transport in Palmerston North (an article from Ian Robertson): Tranzit has expanded its local services in Palmerston North from Monday 15 February 2010, in response to a decision by Horizons Regional Council to increase peak time frequency to a bus every 20 minutes on all routes. The timetable now operates in a clock-face style, buses leaving the Main Street Terminal on the hour, at 20 minutes and 40 minutes past the hour, from 6:40 am to 9:00 am and from 3:00 pm to 6:00 pm. During the middle of the day, buses run to each suburb every 40 minutes; before they were at irregular times. Extra departures continue at 6:40 and 8:20 on Friday.
            In addition, Massey University services from the Main Street Terminal are co-ordinated with urban services to facilitate easier transfers. The newest urban route, Fernleigh/Heights,  now has a frequency almost equal to that to other suburbs, as well as a service on Saturdays.
Almost all services now have co-ordinated departure times from the Main Street terminal, adjacent to the Square, so transfers between services are easy. Drivers call up transfers to each destination before arriving at the terminal, so that if there is a delay, ongoing services wait for transfers. A drawback is that the number of larger buses arriving at the terminal at the same time creates some congestion.
           The City Council is currently looking for a suitable alternative site for a bus terminal in the centre of the city to provide for Inter-city coaches as well as local buses. There is also at present a serious lack of connection between various passenger transport modes in Palmerston North, as local buses do not serve either the intercity coach terminal in Pitt Street, the railway station off Tremaine Avenue, or the airport in Milson.
            To provide additional services, Tranzit have bought 10 Chinese-assembled BCI buses, and employed 4 extra drivers. The buses are: 182/ FEZ44; 183/ FEZ45; 184/ FEZ48; 185/ FEZ49; 395/ FDW402; 396/ FDW403; 397/ FDW404; 398/ FBK436; 399/ FBK437; 400/ FBK438
Six new BCI buses on suburban service at the Main Street Terminal, Palmerston North. All are loading for a common departure time. Facing the camera is 397/ FDW404 destined for Takaro and Highbury. "Tail-end Charlie"of the three facing in the other direction is 400/ FBK438 preparing for a trip to Brightwater and Rangiora. ( Photo: Ian Robertson)
            WELLINGTON – NZ Bus – Valley Flyer –  Harvey Paterson notes that the 2200s for this fleet are bodied by Kiwi, rather than Designline like the 2500s (Airport Flyers). He says it is believed they will be used mainly on Upper Hutt-Petone services, replacing 1300 series MANs. These will be possibly trickled down to Stokes Valley services, replacing the remaining Hong-Kong Volvo B6s. In turn, these will replace the normal control Mercedes-Benz mini-buses on minor routes. On Runcimans, Harvey also notes ex-Auckland S1200 MANs continue to enter this fleet. Notably, ex-NZRRS prototype Hino RK, 6890, and one of the original batch of Cityline Hutt Valley RKs, 7199, continue to soldier on, as does 7269 but only on school bus duties out of Upper Hutt.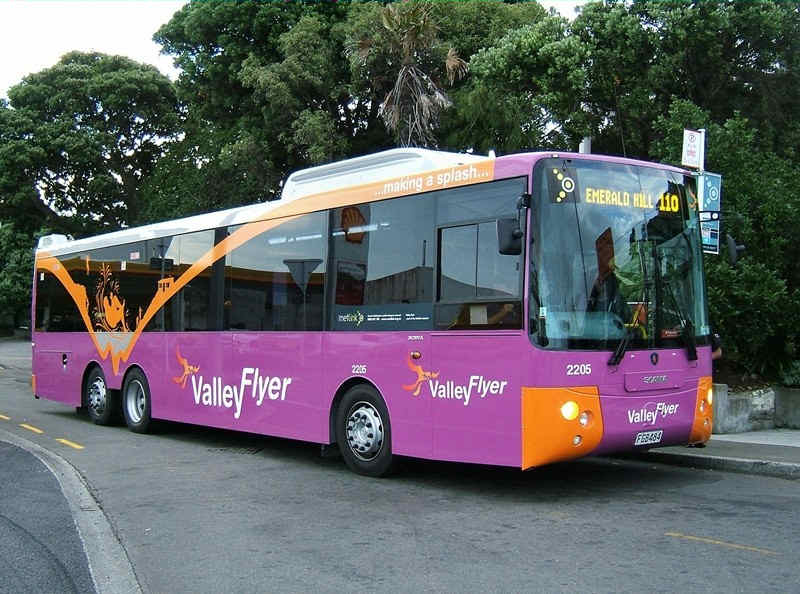 While Go Wellington's Scanias are numbered in the 2100s, Valley Flyer's ten new ones are 2200s. Pristine 2205/ FGB484  is seen at Petone Station on the 24 February. (Photo: Alan Wickens)
Harvey also notes a white Leyland, 11, of NZ Coach Services (as have I – Ed.). He asks, are the roof stripes Stagecoach or Ritchies? NCS have a habit of retaining original F/Ns, so 11 may be a clue. (I think the body may be Hawke. – Ed.) Noticed also by Harvey on the Lake Ferry Road just out of Featherston is what seems to be an ex-NZRRS AEC Regal half-cab, a type that served Wellington, the Hutt Valley and Dunedin in the late 1940s to the mid 1950s. Can anyone shed light on either of the above buses?
Go Wellington's Designline tag-axle trolley, 338, suffered a roof fire on 15 February, from overheated batteries. The setting looks like Riddiford Street, Newtown. (Photo: Graeme Inwood)
Mana Coach Services  –  Newlands Depot –  Six of the latest Scanias with steering tag-axles are at Newlands, and two are at Porirua. ( I think 166/ 167, the final two, are at Porirua.)
Kapiti Depot – Volvo B6FA 14/RX8173, one of few manual transmission buses left in the fleet, has been sold. It leaves at the end of March. It was refurbished and repainted two or three years ago and is in good nick. I'll miss it as it's been at Paraparaumu all my 11 years there, and is pleasant to drive. Its unrefurbished Porirua sister, 12, is for sale, too.  
Editor:  Mike Secker, 63 Glen Road, Raumati South, Kapiti  5032.  Ph: (04) 902 1173   Fax: (04) 902 1174 
Mob: 027 426 7901.  Email:  mikjan@clear.net.nz
Home | About the Society | Fleet | Publications | Library | Bus History | Badges, Books & Posters | Links | Bus Location