RUNNING SHEET
JULY/AUGUST, 2006
The Newsletter of the Omnibus Society Inc., PO Box 9801, Wellington, NZ
SUBSCRIPTIONS…
Subscription unpaid?  Subs for 2006 are due. Treasurer, Morris Moller, would appreciate hearing from you. Sub forms were sent out earlier but, if you need one, ask either Morris (477 9467) or Henry (476 7278) to send you one. Subs are $25.00 per year or $12.50 for non-earners.
            PAST EVENT… MIDWINTER DINNER… JUNE…Michael Berry
The Southern Cross Tavern in Abel Smith Street was the venue for the Society's long standing annual event, the Mid-Winter Dinner. The Southern Cross is a customer for the Bus Operating Group so it was appropriate that we supported them in return. A new multi-storey building has replaced the low profile building that I previously knew and it provided a spacious and comfortable environment on a cool night. Nine members and guests assembled for a pleasant evening that included much convivial natter about various bus topics.
The food was tasty and provided entertainment in its own right. A feature of the menu was the "stone grill" method of cooking. This was new to me and to other members of the party. It comprised a very hot slab of stone on which your chosen raw meats were placed and you cooked them on it to the required degree of doneness. The desserts were delicious and we were particularly fascinated by the chocolate fondues that Morris and Peter chose. Thanks to Peter Rendall for organising this dinner. Suggestions for future dinner venues would be welcome.
          Past & Present EVENTS – JOTTINGS FROM HENRY BRITTAIN…
            Nimon's Centenary : this now seems to have been forgotten about by the new Nimon's management. This has dashed our hopes of completing the Morris Commercial 6, and showing it at the celebrations.
            Bus and Coach AssociationConference : MAN 4 and Bedford 3583 were on display in early July in Civic Square for this event. (See below.)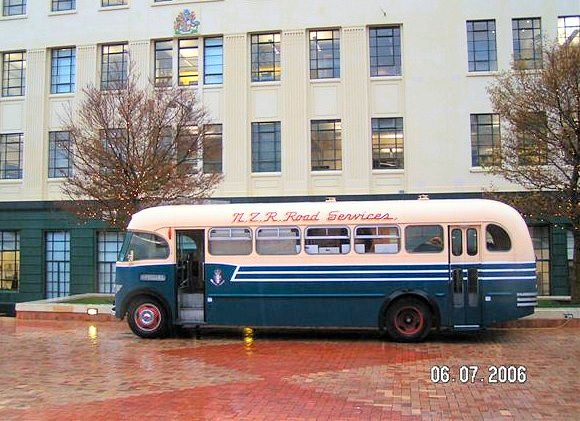 Ex-NZRRS Bedford 3583 (above) and Ex-Gisborne CC MAN 4 (below) on display in Civic Square, Wellington, for the BCA Conference, July, 2006 in Civic Square. Photos Graeme Inwood.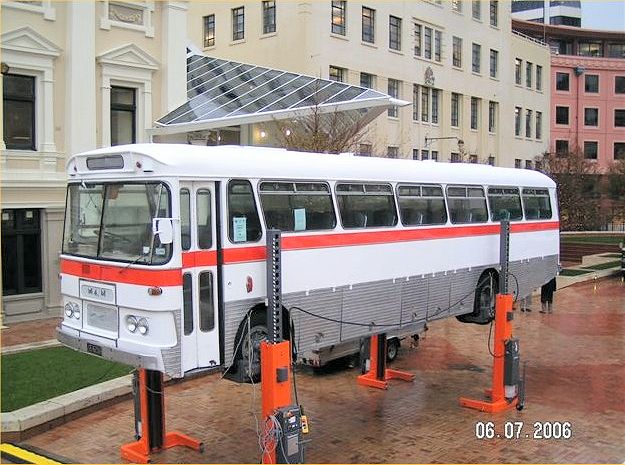 Visit from Wairarapa Branch of Vintage Car Club: the club visited Karori depot on Saturday 19 August and inspected our premises and fleet. They were impressed with our set-up and achievements. This visit was hosted by Henry Brittain and Mike Flinn.
            Visit by Kindred Group : Matt Silver, a Wellington resident who has a collection of Fire Appliances visited Karori to inspect our premises and fleet. He is interested in forming a group of like-minded people with the aim of having a shared storage facility ( preferably undercover) and is keen to involve us in this. He will keep in contact with us.
           Visit Overseas: Gus Weir is presently basking in the UK sunshine, visiting bus and tram sites. (Hmmm….must see if Gus will have something for RUNNING SHEET !! – Ed.)
          FUTURE EVENTS…FROM BOTH HENRY BRITTAIN AND MICHAEL BERRY…
           Wairarapa Trip: Thoughts have turned to a car-pooling trip to the Wairarapa to visit bus garages and storage locations. September was suggested – registering of interest with Michael Berry (04) 479 3111 is suggested.
            The Omnibus Society AGM is scheduled for Saturday, 14 October, at 180 Molesworth Street, Wellington. One of the issues we wish to discuss is amending the constitution to give members the right to grant Honorary Membership.
            Rail Ex 2006 – A brief reminder of this always interesting model railway event at the Lower Hutt Civic Centre, Laings Road, Saturday 30th September (10.00 – 5.00) and Sunday 1st October (10.00 – 4.00). There are trade stands, demonstrations and displays. Adult $5, Child $2, Family $10.
          DRIVERS REQUIRED…For the following dates…
5 November, 2006 – Two or three drivers required for the Eastbourne Carnival, to run a two-bus service, Days Bay to the bus garage, for Carnival attendees. (See OUR FLEET under No. 20.)
11 November, 2006 – Driver or Drivers needed for this evening trip – to for the Parliamentary Security Christmas outing. These folk are regular annual customers and are no trouble. They usually put on a pretty good feed which the driver(s) get to partake of. They also pay us well….
19 – 24 November, 2006 – Trip to the Outdoor Pursuits Centre at National Park. This is probably up on the 19th and then returning to Wellington by Intercity, and vice versa on the 24th. This is only a possible but if anyone is interested, please let Peter Rendall know.
If you can help with any of the above, please contact Peter Rendall on (04) 970 1405 or email obnz@paradise.net.nz  
          PUBLICATIONS AVAILABLE…
The following are available from Peter Rendall. If interested, please contact him as above.
Slow at the Frog – A brief history of the Brisbane trolleybus system. ($12.50)
Buses 2007 – The calendar for the bus enthusiast. It features Australian buses but there are so many Aussie-built buses here now, it's quite homely!                          ($12.50)
Travelling with Newmans – A photo essay on what was New Zealand's flagship operator. ($33.00)
NB Peter adds that he is planning to have Omnibus Society monograph No.7 (on EBC buses) completed by the Eastbourne Carnival Day (5 November – see above) and to launch it on that day.
          OUR FLEET… thanks to Henry Brittain, Peter Rendall
            20 – Negotiations are under way to see the Royal Tiger Cub returned to its original Eastbourne livery (see photo in RS for May/June) and have mechanical problems sorted. Ideally, this should be done by the 5 November, which is the day of the Muritai School's Eastbourne Carnival at which we have been asked to provide a two-bus service from Days Bay to the Bus Garage for Carnival attendees. (See DRIVERS REQUIRED above.)
            397 – The Breadvan is now inside the workshop for much needed maintenance after sitting in the corner of the yard for the last 30 months. The front windscreen needs attention and the starter motor needs an overhaul. Opportunity is also being taken to attend to other body parts that need attention which includes damaged panels being replaced and the emergency exit getting some new framing to replace material that has rusted out.
NB Our fleet needs constant care. Tuesday work nights at Karori Depot could use more people. If you don't mind getting your hands a bit dirty, and, irrespective of whether or not you have any particular expertise, the small dedicated team of regulars would welcome your presence and support.
            OBSERVATIONS…Thanks to Mike Butler, Anthony Greaney, Graeme Inwood, Peter King, Harvey Paterson, Alan Smith,  Nick Stoneman, Peter Thompson
            AUCKLAND – Peter reports that Howick and Eastern have six new tag axle MAN 17.223 buses; they are 218/ DKL 837, 219/ DKU643, 220/ DKU645, 221/ DLK382, 222/ DLT925, and 223/ DLT927.  Howick 21, 31, 52, 53, 56 have been sold to Taverner, and 41 has been sold to Katikati Bus Company.
Disposal of  North Harbour Coaches saw some vehicles off to new fleets as follows:
(All North Harbour fleet numbers, and new fleet number information would be appreciated by Peter.) 93/ SH5203 to Cunningham, Westport, 64/ RQ1017 to IPT, 27/ BCF434 to Classic Coaches, Wainuiomata, 31/ ATA642 to Withers, New Plymouth, 58/ SJ2531 to Harbour City Limousines of Paraparaumu, 14/ ANS366 to IPT, 54/ RS2909 to Leopard, 88/ SX6708 to
Withers, 79/ LP2523 to Cunninghams, Westport, and ?/ BZZ135 to Partybus, Auckland. This vehicle's F/N is unknown, Peter adds, but it is 141 with Partybus and re-registered DKD 942.. (Classic Coaches' vehicle, BCF434, is a Leyland Tiger. – Ed.)
            Peter also adds the more recent news that Taverner, Pukekohe, has Nimon's remaining four Bristols and four more from Madge, plus five Hinos from Howick for work won from Murphy. (These are presumably the five F/Ns mentioned at the start of the Auckland notes. – Ed.)
            CHRISTCHURCH – Nick notes that Leopard have been successful in keeping the 24 Woolston - Hyde Park Service, resulting in them buying 6 brand new Designline MAN 16-223s. Two of these are Orbiters. The other news on tenders here is that Christchurch Bus Services have picked up the tender for the Rangiora service / Woodend / Waikuku Beach as well and the route numbers are 92 Rangiora - City – Rangiora / 912 - Woodend - City - Woodend / 913 - Waikuku - Rangiora – Kaiapoi.
New Buses for Leopard are:
65/ DKD 248, MAN 16-223 B39D (Orbiter); 66/ DKD 253, MAN 16-223 B39D (Orbiter);
67/ DLC 505, MAN 16-223 B39D (Urban Cat); 68/ DLC 508, MAN 16-223 B39D (Urban Cat);
69/ DLC 515, MAN 16-223 B39D (Urban Cat); 70/ DLC 519, MAN 16-223 B39D (Urban Cat).
           The reason Leopard have bought new buses is to replace the Orbiters they sold off to Citibus, Dunedin. Leopard have also changed a couple of Cats over to Orbiters, these being 77/ ZR 8230 (MAN 11-220) and 85/ ZR 8238 (MAN 11-220). This has been done to cover the buses already sold to Citibus in Dunedin. Also, Leopard have had on lease Otago Road Services MAN SLF 50/ DGZ 750 for the last month and a bit. It returned home to Dunedin on Saturday, 19/08/06.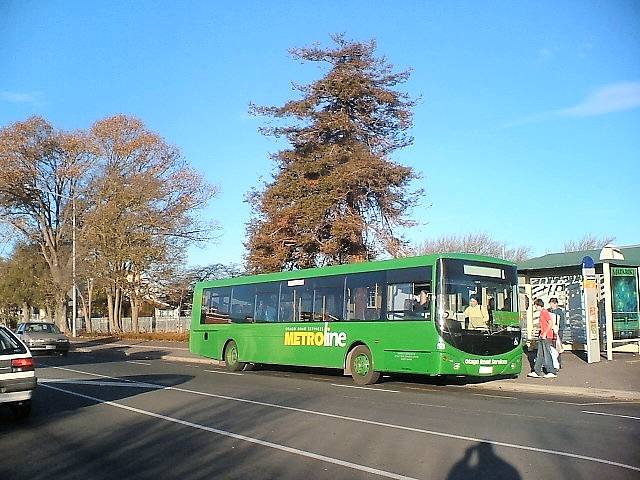 Otago Road Services MAN SLF 50 on lease in Christchurch.   Photo: Nick Stoneman
            DUNEDIN – Nick says that at the last issue of  RUNNING SHEET we were waiting to hear what was happening with buses for Citibus for the new tenders they had picked up from Otago Road Services. Citibus bought 6 ex-Leopard Orbiters. All of them were taken to Dunedin over the space of a couple of weeks and now have been painted and outshopped, looking very smart in their new liveries. Citibus bought ex-Leopard 20/60/61/62/63/64. The original idea was that Leopard was to sell 59. This was changed and 20 was sold instead. Citibus also have two of the ex-Auckland MAN SL200s off the road, 318 and 319. 319 is off the road for good and 318 should be back with a new transmisson very soon.
            HAMILTON –  Peter sends news of 11 new buses for Gobus for the new Hamilton Orbiter – livery is a pleasant silver and green design with mauve decals.
They are 435/ DHM388, 436/ DHM390, 437/ DHM397, 438/ DHU865, 439/ DHU876, 440/ DHU877, 441/ DJD57, 442/ DJL201, 443/ DJU725, 444/ DJU738, 445/ DJU739. No.79 has also joined the Orbiter fleet. The new buses are 2006 MAN 16.223 43-seaters from Designline.
(CORRECTION TO A CORRECTION: Gobus ex-Auckland MANs 1671 and 1678 have F/Ns 138 and 139, not as I wrote in the June/July RS EXTRA. – Ed.)        
Pavlovich has taken over the high frequency Hamilton to Huntly service with four new tag axle Designline-built 51-seaters: 211/ DJU722, 212/ DJL212, 213/ DJL213, 214/ DJL220.  
            HAWKES BAY –  
            Nimons – PeteKing, Depot Administrator at Havelock North, rejoices. (If you're a Bristol fan, avert your eyes!)
"Finally, my yard is empty of Bristols. As you know, Nos 79 and 80 went to Kiwi and came back on new chassis, and are now Volvos. As of 1700 hrs today (30 Aug.), Nos 76, 77, 78, and 81 are all off to Auckland to join the emergency fleet addition of Taveners of Pukekohe. (See Auckland notes.)  Blinds are taken out, route nos set to 00. Also included in the deal are both the Bristol Chassis ex 79 and 80, (see RS May/June) plus all spares.
It's almost enough to turn one religious, but not quite."
Peter adds further, that, in the excitement, he almost forgot to mention that 75, the ex-Nelson Hospital Board Bedford/Isuzu chairlift bus left the fleet on 29 Aug. to become a movan.
He goes on, with relevance to refurbished 28 now in a black/white/grey version of fleet livery for HB's rugby team, the Magpies: "Well, this looks a bit different eh! Now 57 seats, toilet removed, and engine changed to a new big horsepower unit, It now beats 35 uphill, not quite a B12 but working at it."
 
HANDSOME….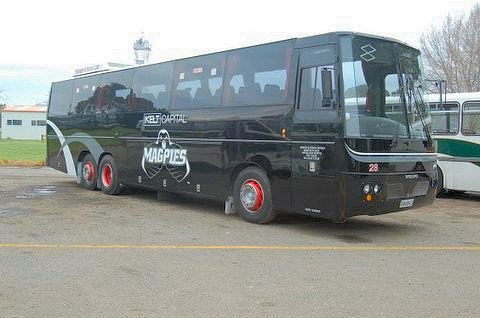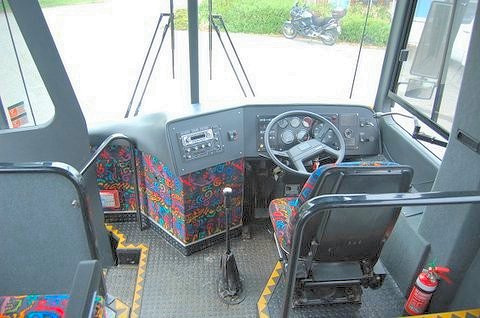 Nimons 28, refurbished by Kiwi for the Hawkes Bay Magpies.  Photos: Peter King
Anthony adds that the refurbishing of 28 was done by Kiwi, and adds also that it is now registered DMU843.
Brand new Mitsi, Rosa No 39, same as 38 and for Pan Pac contract, is now in the paint shop, and Peter promises photos. Anthony also adds that 39's rego is DKL736.
In July, four of the ex-Leopard Volvos (ex-Ansaldo trolleys, WCT) were in service.
IRRESISTIBLE…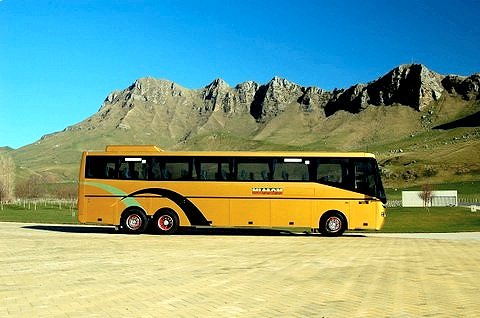 Nimons new 27 Volvo B12 ex Central Motorways (Oceania Livery) seen here upstaging Te Mata Peak.   Photo: Peter King
            WELLINGTON –
            Stagecoach/Infratil/NZ Bus – Harvey observes that, with Stagecoach losing another route to Ritchies in Auckland, more Stagecoach buses will be heading to Wellington. It is apparently intended that the 600 series MAN SLFs will all go to the Hutt Valley. (The 600s are all around a decade in age now. Haven't we got used to SLFs?! – Ed.)
            Alan reports that trolleybus overhead along Whitmore St. and into Stout St was removed in July, 2006. The wires along Customhouse Quay from Brandon St. are now cut off by the Shell service station at the Waterloo Quay/Whitmore St. corner. He comments that, without a direct connection to the Lambton Interchange, they serve no purpose so we could presume that trolleybus access to the main interchange will now be solely via the main Lambton Quay wires – not a "strategic good look"?
            Graeme reports the removal of running gear from Volvo trolleys 263 and 267 and says that 264, the almost de-seated test bus for equipment for the new prototype trolleys, is next.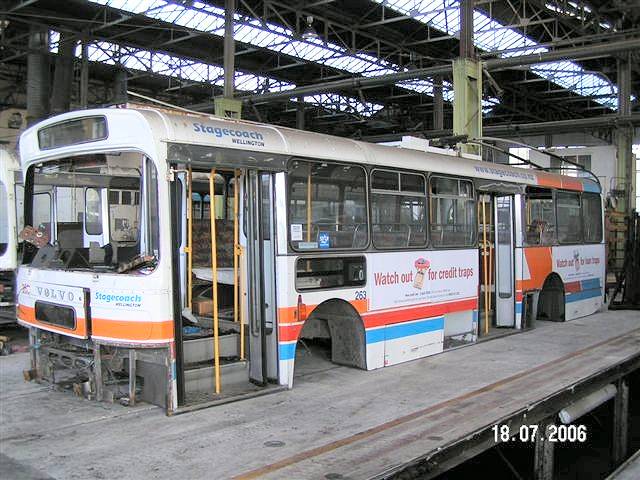 "Well, I can't make it kneel any further!" -  Graeme's caption for this picture of 263 at Kilbirnie, minus its running gear.  Photo: Graeme Inwood
            Mana Coach Services – New Vehicles: Three Volvo B7Rs have been bought from Gobus, for Newlands, to help provide extra peak am services; further fleet replacements are to be looked at later in the year. Dennis Darts 64/65 will be re-allocated to Porirua.
            Kapiti – Porirua's 1983 Volvo B6FA/ Coachwork Ranger 27/ KZ3131 has recently been at this depot for engine repairs, returning to Porirua on Mon.11 Sept. Intended refurbishment of Volvo B6FA 14/ RX8173 has been deferred due to Hino RK 42/ NA7360 requiring body repairs.
            Titahi Bay Charters and Tours and Classic Coaches both have their newly-acquired Leyland Tiger coaches reported by Mike Butler. Titahi Bay have Gobus 47, originally Johnson Blue Motors J47. Gobus last stationed it at Te Puke. Classic have one of a pair of ex-Scenic Coachlines'Tigers from the receivers of North Harbour Coaches (See Peter T's. Auckland notes.) Both Wellington firms were operating recent train replacement from Paraparaumu to points south.  
          DESTINATIONS…One of the detail focuses of bus interest is the display of destinations, which can show local eccentricities and, now, can be shown on vehicles in various ways. Following a suggestion from Morris Moller, Peter Rendall sent these current Wellington City destinations and route numbers. Readers are invited to add to the list, correct things, comment or send in lists from other places:          (Note: Tram influence can still be found in a few numbers.)
1 Island Bay                                                                        20 Highbury - Mt Victoria
2 Miramar                                                                            21 Wrights Hill - Vogeltown
3                                                                                         22 Southgate - Mairangi
4 Happy Valley                                                                   23 Houghton Bay - Mairangi
5 Hataitai                                                                             24 Miramar Heights via Evans Bay
6 Lyall Bay - City via Hataitai                                           25
7 Kingston                                                                          26
8 Kowhai Park                                                                     27
9 Aro St                                                                               28 Beacon Hill Shuttle
10 Newtown Park                                                               29 Southern Shopper
11 Seatoun                                                                          30 Breaker Bay/Scorching Bay Express
12 Karori Park - Lyall Bay                                 31 Miramar Express
13 Mairangi - City via Glenmore St                  32 Island Bay Express
14 Wadestown/Wilton - Kilbirnie via Roseneath         43 Strathmore - Khandallah via Ngaio Gorge
15                                                                                            44 Strathmore - Khandallah via Onslow Road
16                                                                                            45 Brandon  St - Khandallah via Ngaio
17 Railway Station - University - Karori Park               46 Broadmeadows – City
18 Campus Connection - Miramar to Karori Park
19
          GALLERY…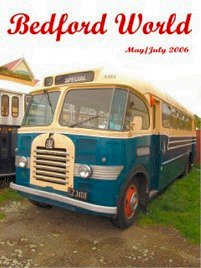 Michael Berry
sent the above with the following note: Our new member, Alan Wickens, submitted this photo, taken at the Karori Open Day, to the above UK magazine and it was put on their front cover. Bedford World's contact email is david.griffiths@bedford-world.com

 

for those interested.
Many thanks, Michael, and Alan.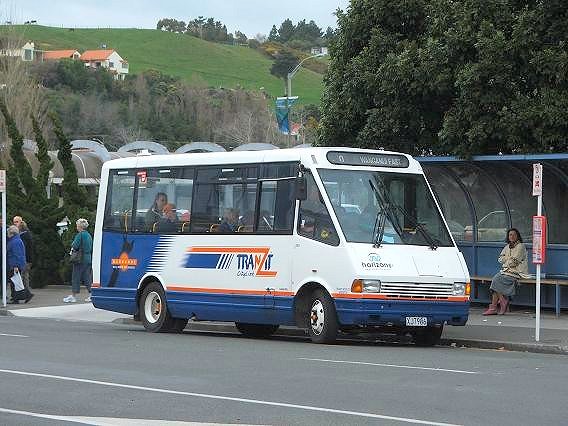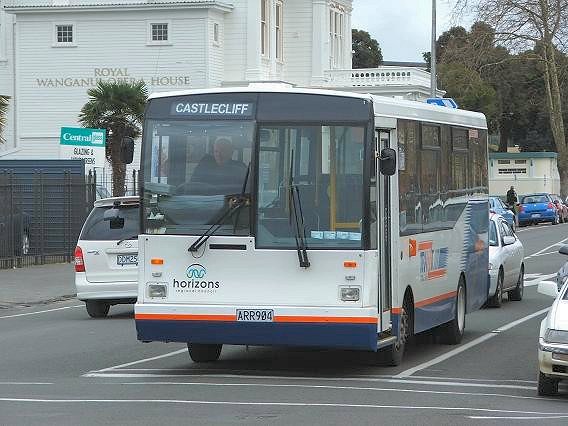 To continue the UK ambience, here are Tranzit MCW Metrorider, 245/ XJ7906 (Left) and Tranzit Dennis Dart/ Carlyle, 258/ ARR904 (Right) on Wanganui routes, respectively to Wanganui East and Castlecliff. Many thanks to Stan White for these photos.
                WEBSITE…
The Society's website, masterminded by Mike Butler, is now incorporated in RUNNING SHEET's title heading. Pay it a visit – it's well worth it! Also, if you've missed or lost issues of the newsletter, back numbers are available on the website.
______________________________________________________________________________
        Editor:  Mike Secker, 63 Glen Road, Raumati South, Kapiti  6010.  Ph: (04) 902 1173  Fax: (04) 902 1174  Mob: 027 426 7901
Email:  mikjan@clear.net.nz