Mercedes Benz Unimog Buses
The buses on this site are actively tracked. The last registration record search was 13 February 2012.
The New Zealand Army purchased a number of Unimog U1300L 4x4 trucks from the mid 1980's. Some of these have found new lives as buses and passenger trucks doing off road tours after disposal from the armed services.
Defence
#
Chassis Nbr/VIN
Year
Original Reg
Later Owner
#
Later Reg
Date
Comments
?
43511560101595
21/3/84
LJ6054
Northliner Express (SDK Ltd), Auckland
?
LJ6054
16/5/95
NZ Army, Linton
MOGY2
2/2/96
Unique Kauri Adventures Ltd, Auckland
?
MOGY2
15/4/97
B20F
Dune-Rider 4X4 Tours Ltd, Paihia
?
MOGY2
1/11/99
Adventure Safari 2009 Ltd, Riverhead
?
MOGY2
22/4/09
?
43511520121082
24/4/86
MO5305
D P Burnett, Helensville
?
MO5305
18/7/95
NZ Army, Sylvia Park
MOGY1
7/12/95
Unique Kauri Adventures Ltd, Auckland
?
MOGY1
15/4/97
B20F
scrapped
6/4/00
?
43511560101698
23/2/90
NO253
Dune-Rider 4x4 Tours Ltd, Paihia
?
NO253
16/3/01
RNZAF, Wellington; B20F
registration lapsed
1/3/10
?
WDB4351156W128972
27/4/90
PA1770
Dewes Contractors Ltd, Manutuke
?
PA1770
16/10/96
2nd Logistics Battalion, Linton
Three Foot Six Ltd, Miramar
?
PA1770
22/2/00
Used by "Lord of The Rings" crew
D G Owles, Lower Hutt
?
PA1770
25/5/01
B17R
Capital Adventure Tours Ltd, Lower Hutt
?
PA1770
25/5/01
CATKIT
18/8/03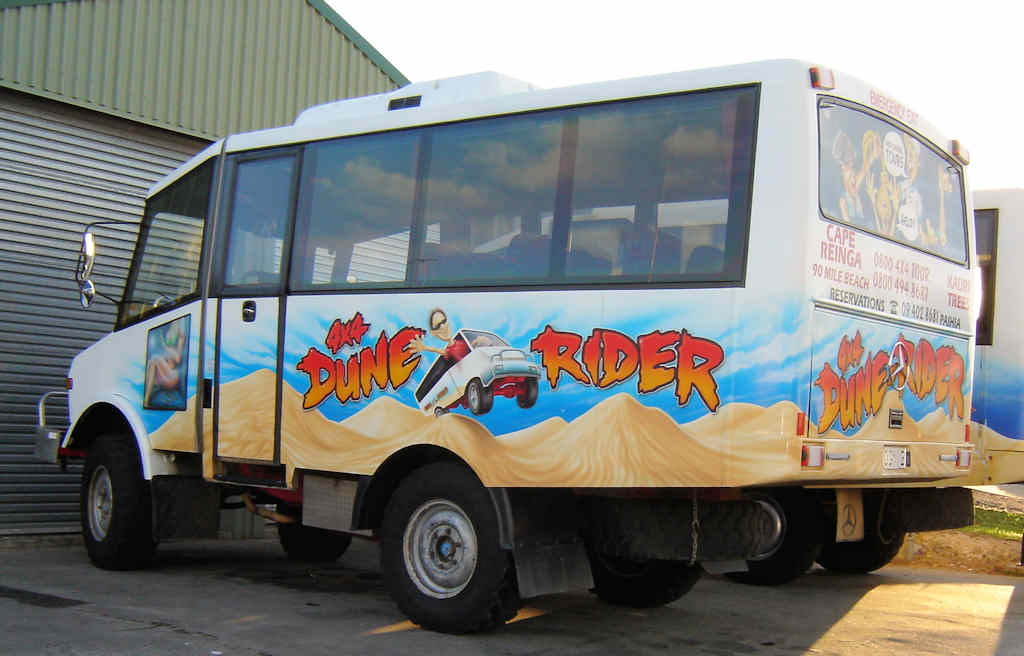 Last updated 22 February 2012