Leyland Boxer buses
The Leyland Boxer is a derivative of the BMC FJ truck built at the Britsh Leyland Bathgate plant. The Boxer bus chassis was sold in New Zealand, Australia and Singapore only.
The two examples below are Boxer BX1200 with a front engine. The nominal 12tonnes GVW has been increased to 13.2tonnes. Wheelbase 5490mm 5814cc motor.
Doug Jack's "The Leyland Bus" mentions a rear engined version GX1600RE with a Perkins V8-540 engine and a GVW of 16 tonnes was available.
The buses on this site are actively tracked. The last registration record search was 1 February 2010
Atkinson & Dossett Ltd
Pleasant Point. Trade as Landmark Lines. Hawke Commander B40F body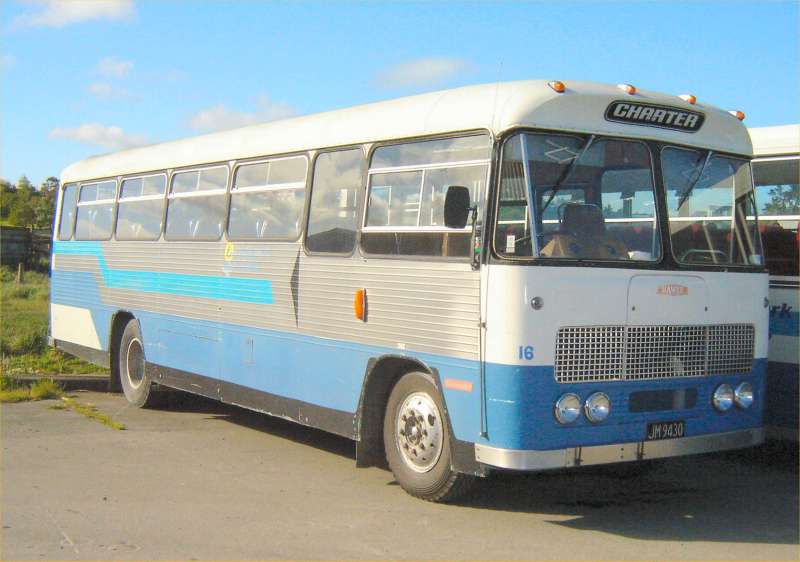 | # | Chassis Nbr/VIN | Year | Original Reg | Later Owner | # | Later Reg | Date | Comments |
| --- | --- | --- | --- | --- | --- | --- | --- | --- |
| 16 | 522481 | 5/11/79 | JM9430 | A J Matson, Temuka | | JM9430 | 29/4/09 | reg as truck. On hold 09 |
Bream Bay Buses Ltd
Ruakaka. Hawke Eurocoach C40F body

#
Chassis Nbr/VIN
Year
Original Reg
Later Owner
#
Later Reg
Date
Comments
12
515051
JM9702
5/3/80
Newmans Coach Lines Ltd, Whangarei
234
JM9702
16/6/93
.
Adams Bus Service, Whangarei
?
JM9702
12/2/92
E R & E K Adams
Adams Travelines Ltd, Whangarei
?
JM9702
6/12/96
Noreast Coachlines Ltd, Mangonui
?
JM9702
2/2/01
Bowmans 2000 Ltd, Kaitaia
?
JM9702
22/12/04
D J & T A Bowman, Takahue, Kaitaia
?
JM9702
20/1/05
H D Simeon, Pamapuria, Kaitaia
?
JM9702
11/2/05
Movan; Reg on hold 05
Dorset Motors (Whangarei) Ltd
Ruakaka Demac B34+14F body
#
Chassis Nbr/VIN
Year
Original Reg
Later Owner
#
Later Reg
Date
Comments
?
513823
17/07/79
IM2045
A W Shield Ltd, Maungatapere
1
IM2045
14/5/81
B B & I M Wilson, Maungatapere
1?
IM2045
23/4/91
withdrawn from use
23/12/05
Last updated 2 February 2010