Ford M0509/10 Trader
Ford M0509
The Ford M0509 was a light truck made in Japan by Mazda and marketed in New Zealand as the Ford Trader.
The vehicles on this page are actively tracked. The last registration record search was 11 April 2010.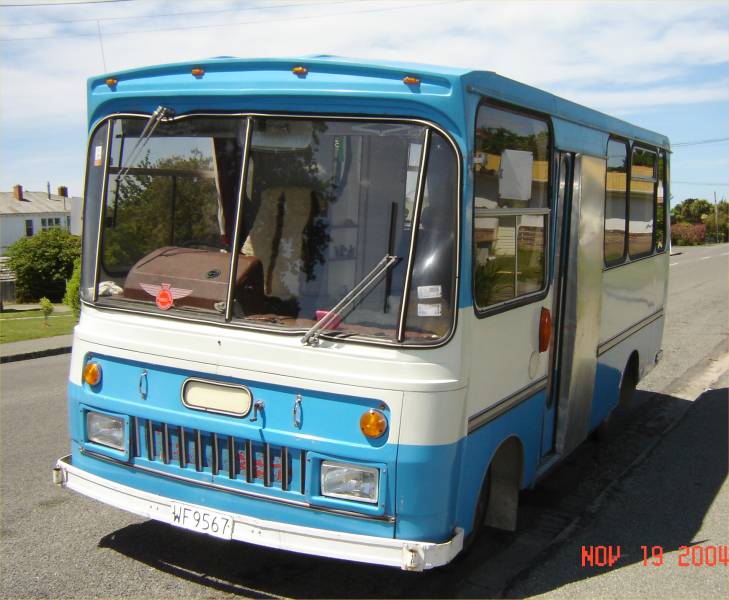 Christchurch Transport Board
Two buses with Hawke B14C bodies used along with Leyland Lion 609 for a disabled persons transport service.
#
Chassis Nbr/VIN
Year
Original Reg
Later Owner
#
Later Reg
Date
Comments
11
99795
30/7/82
KP1727
Boden House Ltd, Christchurch
KP1727
16/5/89
BODEN4
13/9/89
WF9567
5/6/97
M J & J J Slater, Oamaru
WF9567
10/9/03
Movan
E Piggott, Pareora, Sth Canterbury
WF9567
31/10/05
Movan
12
WT0489777
30/7/82
KP1728
Age Concern Southland Inc, Invercargill
KP1728
31/5/89
D W Thompson, Invercargill
KP1728
21/11/00
Movan
J L & G Adams, Kaiapoi
KP1728
14/6/01
Movan
Scenic Coachlines Ltd
Auckland. Jones Odell C16F body
#
Chassis Nbr/VIN
Year
Original Reg
Later Owner
#
Later Reg
Date
Comments
18
SLDFCL84492
25/3/82
KN5412
Micro Airport Shuttle Ltd, Auckland
?
KN5412
23/12/88
C van Velzen, Tauranga
KN5412
27/7/90
Movan
N Stuart-Menzies, Tauranga
KN5412
5/7/99
Movan
R E Gardner, Seddon
KN5412
19/1/00
Movan
L H Leef, Seddon
KN5412
10/12/09
Movan; Unconfirmed
Ford M0506 Trader
One bus only known
Batchelor Coachlines
Rangiora. Modern Motor Bodies (MMB) B32 body
| # | Chassis Nbr/VIN | Year | Original Reg | Later Owner | # | Later Reg | Date | Comments |
| --- | --- | --- | --- | --- | --- | --- | --- | --- |
| ? | ? | 1983 | | | | | | |
Ford 0510 Trader
One bus only known
Dargaville High School
| # | Chassis Nbr/VIN | Year | Original Reg | Later Owner | # | Later Reg | Date | Comments |
| --- | --- | --- | --- | --- | --- | --- | --- | --- |
| ? | SLDFGM44401 | 21/1/86 | MQ9827 | | | | | Demac B24F; VIN 7A86GXX0997753384 |
Last updated 25 April 2010